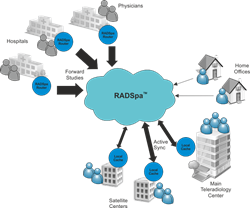 RADSpa™ is suited for various verticals that use Radiology as the key element of diagnosis with number of benefits.Inviting Delegates to meet and join Telerad Tech. Visit Booth No. 42, at Hotel Jaypee Palace, Agra to watch live demo and win an iPod!
Agra, Uttar Pradesh (PRWEB) January 07, 2014
Telerad Tech™ announces the launch of RADSpa™ 3.5 at the forthcoming event, Indian Radiological & Imaging Association (IRIA) 67th annual conference in Agra from January 23 - 26, 2014. Telerad Tech™ has been founded by a group of technology innovators and eminent radiologists with the focus to develop products and solutions to address the gaps and needs of Healthcare IT in general, and radiology automation systems in particular.
Telerad Tech™ will be exhibiting at Booth No- 42, in Hotel Jaypee Palace and looking forward to meeting delegates who can take RADSpa™ - a radiology workflow intelligence to streamline, increase productivity, reduce the Turnaround Time, reduce the costs of operations, and improve the quality of patient care in the Healthcare space. RADSpa™ is an integrated RIS/PACS and Radiology workflow solution all rolled into one.
This solution is suitable for hospitals, imaging centers and clinics. RADSpa™ can cater from a single radiologist low volume system to a multi-site/multi radiologist's teleradiology platform with high volumes without serious reinvestment from the client.
Mr. Ricky Bedi, CEO of Telerad Tech™ said, "With presence in almost 23 countries and hundreds of installations Telerad Tech is now looking forward to expand further. We are inviting delegates to meet us and join us at IRIA 2014. The presence of Telerad group at IRIA 2014 will underscore our commitment to understanding the emerging market needs and providing the affordable, reliable solutions and services. We look forward to interacting with our valued customers at the event, as well as meeting new ones."
"We provide cost effective cloud based and/or onsite solution, several re branding options, and 24X7 round the clock support."
RADSpa™ for Radiology verticals:

RADSpa™ PACS+
RADSpa™ for Hospitals
RADSpa™ for Imaging Centers
RADSpa™ for teleradiology providers
RADSpa™ for Various Services:
RADSpa™ MWL with scheduler
RADSpa™ patient portal
RADSpa™ CD burner/RIMAGE interface
Walk-in to our booth and watch RADSpa™ demo, you have a chance to win an iPod,
The top 10 benefits of RADSpa™:
1) Integrated RIS/PACS solution.
2) Highly configurable system with built in rules engine.
3) Designed to work on Cloud and Onsite.
4) Equipped with features like HL7, Scheduler, Modality Work list, Powerful reporting systems with dictation capabilities, Mobile apps (IPAD).
5) Built in Quality Audit features, and extensive Management Information System (MIS).
6) Increases radiologists' coverage and reach hence, increased productivity.
7) Extended Functions includes Telemedicine.
8) Time tested solution used in more than 20 countries.
9) 24/7 tech support.
10) No major upfront investments required. Sign up and start now.
For more information or to schedule meeting with Telerad Group experts at an event call us at number +91 -978 998 6210 or fill out a simple form available on our website: http://www.teleradtech.com/events.html.