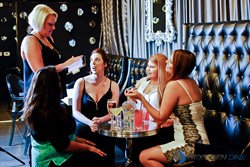 Las Vegas, NV (PRWEB) January 08, 2014
Next Gen Dine restaurant point of sale by Prelag Partners LLC introduces a new 'Text to Page' feature that proves useful for in-demand restaurants.
The new point of sale system is designed to cater to all restaurant business needs. With a busy restaurant in mind, Prelag Partners LLC integrates a new feature that proves useful and effective for reservation organization.
Next Gen Dine just rolled out a brand new feature that facilitates the reservation process. Buzzers are no longer needed with the new 'Text to Page' feature on Next Gen Dine.The patron can now be paged via text message when their table is ready.
The paging feature helps keep track of reservations and keeps the floor organized. Hostesses can choose to page the customer as many times as directed.
Next Gen Dine is the future of restaurant dining. For more information about the point of sale system or to find out how your restaurant can take part of Next Gen Dine, contact Paul Roberts, Managing Partner, at 1-877-342-2218 or e-mail. Connect with us on Twitter, Facebook and LinkedIn.
About Next Gen Dine
Next Gen Dine is a cloud-based, mobile restaurant point of sale software designed for the iPad. Restaurant owners can now capitalize on the benefits of a full-featured POS system for a fraction of the cost of a traditional POS. Due to the mobility offered by the software, employees can take orders directly at the table, take credit card payments at the customer's side, and drastically improve restaurant operating efficiency. Orders placed are sent directly to the appropriate prep station, therefore decreasing order turnaround time. Next Gen Dine also offers restaurant owners customer loyalty, gift card, social media, and fine- grained marketing tools.