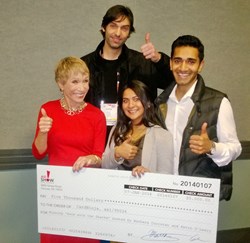 "You have a phenomenal product. I'll offer you $10,000 right now for 30% of your company," said Barbara Corcoran.
Orlando, FL (PRWEB) January 09, 2014
Self-made tycoons Barbara Corcoran and Kevin O'Leary captivated a standing-room-only crowd at The ASI Show™ in Orlando Tuesday during a live Shark Tank-style "pitch slam" between four innovative entrepreneurs vying for a $5,000 cash prize for the top new promotional product.
Winning supplier Card Ninja dazzled the two tough judges along with a voting audience of nearly 1,200 with an innovative card-holder that sticks to the back of cell phones. The wallet-like product is designed in California and made in the USA. "You have a phenomenal product," Corcoran told the Card Ninja representatives. "I'll offer you $10,000 right now for 30% of your company."
Card Ninja co-founder Sunder Jambunathan competed for the prize during an onstage presentation along with Rupa Mohan and Christopher Page. The competition took place at a trade show hosted by the Advertising Specialty Institute, of Trevose, PA, the largest member organization in the $20 billion promotional products industry.
Promotional products, also known as ad specialties, are logoed or branded products often given away for free by companies to advertise their brand or event.
Along with two stars of the ABC hit reality show competition Shark Tank, ASI Orlando attracted over 5,600 distributors from 27 countries and nearly every state in the union, along with 805 exhibitors.. The event, which took place at the Orange County Convention Center, showcased thousands of the hottest products in the industry. "Our booth was a mob scene," said Lee Feinstein from Bodek & Rhodes.
Also at the show, ASI® celebrated the industry's best suppliers during the annual Counselor® Distributor Choice Awards, which applauded winners in 60 different product categories. Seattle-based iClick was named 2014 Supplier of the Year.
"I think the real reason iClick is tonight's winner has a lot to do with founder Lon McGowan's mantra: 'Do whatever makes the distributor look good,'" said Timothy Andrews, ASI president and CEO.
Upcoming 2014 ASI Shows are Dallas (February 4-6), Long Beach (March 25-27), New York (April 3-4) and Chicago (July 15-17).
About ASI
The Advertising Specialty Institute (ASI; http://www.asicentral.com) is the largest media, marketing and education organization serving the promotional products industry, with a network of over 25,000 distributors and suppliers throughout North America.