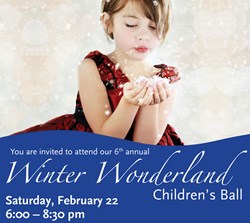 Calling all little princes and princesses!
Norwalk, CT (PRWEB) January 08, 2014
Stepping Stones is rolling out the red carpet for young princes and princesses as the museum transforms into a snow-kissed wonderland for its sixth annual Winter Wonderland Children's Ball from 6:00 – 8:30 pm on Saturday, February 22. Children are invited to dress up in their party best for a memorable evening of fun and entertainment.
Youngsters will be treated like the princes and princesses that they are as they enjoy a magical wintry celebration featuring dancing and full access to all the exhibits in the museum. Families will enjoy posing for the paparazzi as they arrive, learning ballroom moves from the experts and making wonderful winter crafts.
Photo opportunities will abound as Stepping Stones celebrates the magic and wonder of the season amidst a whimsical winter backdrop of a lighted courtyard, a play-sized igloo, a life-sized snow globe, spectacular winter murals, snowflake-adorned galleries and a myriad of snow people. The Stepping Stones Cafe will also be open for purchases of their healthy fare.
Tickets for this unforgettable evening for the whole family cost $10 per person for museum members and $15 per person for non-members. Children under the age of 1 will be admitted for free. Winter Wonderland Children's Ball tickets are non-refundable and non-transferable. Registration is required. Space is limited, so register early. Call 203-899-0606, ext. 264 or visit http//http://www.steppingstonesmuseum.org/wonderland.
About the Company:
Stepping Stones Museum for Children in Norwalk, CT, is an award-winning, private, non-profit 501(c)(3) children's museum committed to broadening and enriching the lives of children and families. Located on five acres in Mathews Park, the LEED Gold certified museum encompasses five hands-on galleries, state-of-the-art Multimedia Gallery, Family and Teacher Resource Center, cafe and retail store.
Stepping Stones is located at 303 West Ave., exit 14N or 15S off I-95 in Norwalk. Museum hours are from 10 a.m. – 5 p.m. Tuesday through Sunday from Labor Day through Memorial Day, and Monday through Sunday from Memorial Day through Labor Day. Admission is $15 for adults and children and $10 for seniors. Children under 1 are free. To learn more, call 203-899-0606 or visit their website.