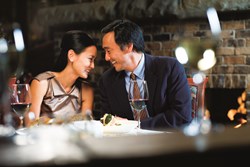 'Diners get to sample the culinary scene at attractive, only-in-January prices,' announced Kimberly Adams, Temecula Valley CVB president and CEO.
Temecula, CA (PRWEB) January 09, 2014
The Temecula Valley Convention & Visitors Bureau announces local restaurants' celebration of California Restaurant Month by offering special prix fixe/fixed price lunch and dinner menus daily throughout January and providing diners with the chance to sample the culinary scene at attractive, only-in-January prices. Welcoming 2 million visitors each year, and featuring Downtown Old Town Temecula, Temecula Valley Wine Country, Pechanga Resort & Casino, and the Temecula Wine Country Golf Trail, the casual, picturesque Temecula Valley is located 60 minutes from San Diego, Orange County, and Palm Springs; and 90 minutes from Los Angeles and Hollywood.
TEMECULA VALLEY Southern California Wine Country, January 6, 2013; "January is Restaurant Month throughout California. Temecula Valley's celebration commemorates fresh and delicious, creations of talented, local chefs with special prix fixe/fixed price lunch ($5-$10-$15) and dinner ($15-$20-$30) menus at local restaurants and bistros," announced Kimberly Adams, Temecula Valley Convention & Visitors Bureau president and CEO. "Diners get to sample the culinary scene at attractive, only-in-January prices. Also appealing are Temecula Valley hotels and resorts' Sunday-through-Thursday, better-than-weekend, nightly room rates; and weekday opportunities to enjoy outdoor adventures and activities, seasonally inspired artisan foods, and Temecula Valley wineries' and wine tasting rooms' new releases."
*1-Baily's Old Town Temecula
Baily's features freshly prepared California-Continental cuisine and friendly service. January lunch specials include small flatbread pizza ($5), chicken picatta salad ($10), grilled hanger steak ($15); dinner specials, blackened-shrimp pasta ($15), salmon Wellington ($20), filet mignon ($30).
*2-Bulldog Brewery
Bulldog Brewery offers top quality craft beer and perfectly matched foods. January lunch specials range from signature sweet-and-spicy bacon wedge salad ($5), to grilled-cheese Panini with cup of tomato bisque soup ($10); dinner specials, chili bread-bowl ($10), meatball Panini (15), beer-basted pulled-pork sliders ($20).
*3-Creekside Grille at Wilson Creek Winery
Fresh, seasonal ingredients and award-winning Wilson Creek wines are hallmarks of Creekside Grille. January's special is any two signature-sandwiches – Creekside burger, salmon BLT, Gerry's Reuben, and others – and two glasses of Wilson Creek sparkling wine for $25.
*4-Organic Roots
Organic Roots market features a natural deli, bakery, salad bar, hot bar, coffee bar, and juice bar. January lunch specials include create-your-own-sandwich ($5), pick-of-the-deli ($10), lunch-for-two ($15); dinner specials, dinner-for-one ($15), dinner-for-two ($20), family-night-out ($30).
*5-Journey's End at Pechanga
Casual dining meets relaxed elegance inside of the Journey at Pechanga Clubhouse. Open to golfers and non-golfers alike. Lunch specials are Avocado Chicken Melt with Frieds for $10 and Poached Salmon with Baby Greens for $15.
*6-Kelsey's Bar & Grill
A fun, spacious, and pub/sports bar atmosphere inside Pechanga. Dozens of flat screen TVs around the bar and restaurant make watching your favorite sports game even better. Kelsey's features a full bar and 16 microbrews on tap. Restaurant Month specials are Achiote Chicken Nachos for $10; BBQ Baby Back Ribs Half Racks with cole slaw, cheddar biscuit, sweet potato or steak fries for $15; and Grilled New York Steak with crispy onions, corn on the cob and steak fries or mashed potato for $30.
*7-Parea Old Town
Food with character, distinctive flavors, and new tastes, are signatures at Parea. January lunch specials include tzaziki dip ($5), hummus ($5), beet-cheese-and-tomato salad ($10); dinner specials, Caribbean chicken ($12), lamb chops ($15).
*8-Pinnacle at Falkner Winery
Pinnacle restaurant offers great panoramic views, Mediterranean-style food, and high-quality service. January's lunch special is grilled Mediterranean snapper with walnut-caper-and-olive tapenade, and saffron rice ($15).
*9-Robin's Nest Desserts
Robin's Nest specializes in made-from-scratch, southern-style desserts with an innovative twist. January's special dessert is lemon lavender bars ($5).
*10-Siam Thai Food Restaurant
The casual Siam eatery serves exotic cuisine of the eastern world. January lunch special is cashew nut chicken ($10); dinner special, Crying Tiger, grilled rib eye with spicy Thai sauce ($15).
*11-The Shamrock Irish Pub & Eatery
Shamrock is popular for authentic Irish hospitality. January lunch special is whiskey beer burger with beer-battered jalapenos and onion rings ($10); dinner special, Irish beer-battered fish and chips ($14).
*12-Trattoria Toscana
Trattoria Toscana is a quaint Italian restaurant. January lunch specials include side salad and minestrone ($5), Caprese salad and minestrone ($10), Panini and crostini ($10); dinner specials, choice of pasta and sauce ($10), gnocchi gorgonzola ($15), lasagna verdure-arrosto ($15), linguine-and-prawns ($20), and filet mignon with porcini mushrooms ($30).
*13-Vail Ranch Steakhouse
Dinner-only Vail Ranch Steakhouse specializes in "in-house" dry-aged beef. January specials include hot and spicy shrimp or sesame-crusted Ahi ($10); charcuterie platter ($15); and prime top sirloin, calf liver and onions, meatloaf, or whitefish entree ($20).
*14-Vineyard Rose at South Coast Winery
The casually elegant, Tuscan-inspired Vineyard Rose offers indoor and outdoor seating. January's multi-course lunch specials include cured ham Panini or Jamaican jerk chicken ($15); multi-course dinner specials, seared cobia, jerk-spiced Jidori chicken, or bistro steak churrasco ($30).
Please note: Additional Temecula Valley restaurants participating in California Restaurant Month include Café Champagne (Thornton Winery), Cork | Fire Kitchen (Temecula Creek Inn), Crown Hill Pizza, La Bella Vita, Old Town Pub and Grub, Monte de Oro Bistro (Monte de Oro Winery), Old Town Pub & Grub, and Scarcella's Pizzeria & Grill. Please see restaurantmonth.org and inquire directly with restaurants for full details of specials.
*Information is believed accurate but may be subject to change.
ABOUT THE TEMECULA VALLEY AND THE TEMECULA VALLEY CONVENTION & VISITORS BUREAU
With natural gifts of climate and geography, bolstered by Pu'eska Mountain, the Rainbow Gap, and Santa Margarita Gap, Temecula Valley is widely recognized for its scenic vineyards, quality wines, and gracious and friendly wineries as Temecula Valley Southern California Wine country. The popular boutique destination is home to the 2013 California State Winery of the Year, South Coast Winery.
The Temecula Valley Convention & Visitors Bureau, the region's official tourism marketing organization and resource for visitors, is online at VisitTemecula.org with a complete Events Calendar; Facebook, "Temecula Valley Southern California Wine Country"; and Twitter, @Visit_Temecula. Temecula Valley Visitors Center in Downtown Old Town Temecula (Third Street and Mercedes; adjacent free, Old Town Temecula Parking Garage) is open 7 days.
###
MEDIA CONTACTS:
Kimberly Adams, President and CEO
Temecula Valley Convention & Visitors Bureau
951/491-6085; Kimberly(at)TemeculaCVB(dot)com
Multimedia: Videos, Photos, Graphics
Annette Brown, Marketing PR Manager
Temecula Valley Convention & Visitors Bureau
951/491-6085; Annette(at)TemeculaCVB(dot)com