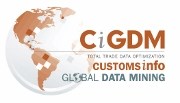 I've witnessed many trade professionals who know what they need to improve their company's trade compliance systems but they struggle to make the business case
Eden, UT (PRWEB) January 08, 2014
Matt Gersper, Chairman of the Board for CUSTOMS Info Global Data Mining, will share a simple 5-step process to help trade professionals evaluate and present the business case for improving their company's Trade Compliance program.
Who: Matt Gersper, Chairman, CUSTOMS Info Global Data Mining
What: This webinar is part 2 in a 4 part series. In Part 1, Mr Gersper presented an easy-to-understand strategy to help trade professionals communicate an enterprise-wide solution to the ever-increasing demands of international customs compliance.
In This webinar, Mr. Gersper offers a 5-step process for creating a compelling business case. Learn a framework for effectively evaluating and presenting the "space" between where you are and where you want to be, and why it's important to your company.
When: Thursday 9, 2014, 11:00 AM - 11:30 AM EST
Where: Register for this online webinar at: https://www1.gotomeeting.com/register/255850064
If the timing of this webinar is not convenient for you, please mark "Send Recording" when you register.
Quote: "I've witnessed many trade professionals who know what they need to improve their company's trade compliance systems but they struggle to make the business case," says Matt Gersper, Chairman of CiGDM. "We've developed a simple 5-step process to help them evaluate and present the 'space' between where they are and where they want to be, and why it's important to their company."
Supporting Resources:

About CUSTOMS Info Global Data Mining
CUSTOMS Info Global Data Mining helps businesses optimize global trade management (GTM) systems and streamline global trade compliance automation. We provide the world's most comprehensive trade data repository delivered via web-based subscription, API web services or as data to populate any GTM or Landed Cost application. We are the largest provider of duty and tax content for international e-commerce with hundreds of e-commerce sites utilizing our data to provide accurate landed cost information. Our data and services provide faster deliveries and fewer border delays. We help multi-national companies increase the informational value of trade data and the productivity of global trade staff to reduce operating costs, improve customs compliance, accelerate supply chain speed and maximize the return on investment of this corporate function. Areas of expertise include customs classification research, customs auditing and trade data analytics/business intelligence.
Working in conjunction with GTM applications, our strategic partners include SAP, Oracle, MIC and other trade software partners. Please visit http://www.customsinfo.com for more information.