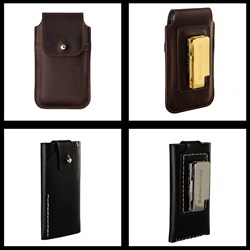 Markham, ON (PRWEB) January 09, 2014
Following a successful Kickstarter campaign, Blacksmith-Labs has launched their official website on Jan 1, with variants of both Bruno and Barrett leather holsters now available for immediate purchase.
With three finish options to choose from on the metal alloy belt clips, they complement the premium leather holster construction in both style and functionality.
The Horween Signature Collection is the premium collection in the Blacksmith-Labs product line up, where both the Bruno and Barrett leather holsters are crafted using Horween Chromexcel premium leather. With most belt clips holsters being made with cheap leather and plastic out there in the market, the Blacksmith-Labs Horween Signature Collection stands out from the ordinary, adding a touch of elegance to those who live by a holster daily.
To celebrate the launch, Blacksmith-Labs is offering $20 off for each item purchased from its website for the entire January, using the coupon code BSLLAUNCH during checkout.
About Blacksmith-Labs
The Blacksmith-Labs brand is owned by Exati Technologies Inc., with a mission to create the best smartphone leather holster in the world, with unsurpassed craftsmanship and unparalleled durability.