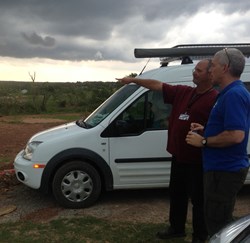 Sarasota, FL (PRWEB) January 10, 2014
Dave Nichols, resident of West Seattle, is en route to the Philippines where he will deliver emergency tented shelter and other supplies to families impacted by Typhoon Haiyan with international disaster relief organization, ShelterBox.
Nichols is a highly-trained volunteer ShelterBox Response Team member, who works in the field to deliver tented shelter and other supplies such as stoves, blankets, water filters and other tools to families who lose their homes and possessions following a disaster such as earthquake, volcano, flood, hurricane, cyclone, tsunami or conflict.
In response to Typhoon Haiyan (known locally as Yolanda), which struck the Philippines on Nov. 8, ShelterBox continues to provide aid to families in the worst hit areas of Leyte and the Bantayan islands.
Nichols, a member of the Rotary Club of West Seattle, will leave the country today.
Having assisted families displaced by tornadoes in Oklahoma last year, this is Nichols' first international deployment with the organization, since becoming a member of its response team in March 2013.
After serving his country in the United States Army for 20 years, Nichols managed call and fulfillment centers for major retailers in Seattle and Dallas for another decade. During this time, he responded to seven federally declared disasters, including Hurricane Ike. Nichols currently serves as manager for the Public Health Reserve Corps (MRC) of King County, which allows him to support his community in times of disaster or medical emergencies.
Response team members like Nichols allow ShelterBox to respond to more than 25 disasters a year, often arriving within 48 to 72 hours. Those interested in volunteering for ShelterBox as a response team member or through other supporting roles should contact the organization at 941-907-6036 or visit shelterboxusa.org/beinvolved.
ShelterBox has also been responding to the Syrian refugee crisis since October 2012, providing emergency tented shelter and other essential equipment to displaced families in and around Syria. For the latest on this and other ShelterBox deployments, visit http://www.shelterboxusa.org/news.
About SHELTERBOX USA
Since 2000, ShelterBox has provided shelter, warmth and dignity following more than 200 disasters in over 90 countries. ShelterBox instantly responds to earthquake, volcano, flood, hurricane, cyclone, tsunami or conflict by delivering boxes of aid and other supplies. Each iconic green ShelterBox contains a disaster relief tent for an extended family, stove, blankets and water filtration system, among other tools for survival. ShelterBox's American affiliate, ShelterBox USA, is headquartered in Sarasota, Florida. Individual tax-deductible donations to ShelterBox USA can be made at http://www.shelterboxusa.org or 941-907-6036.