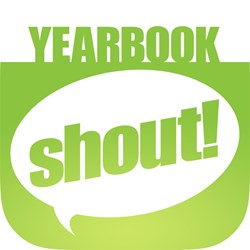 Yearbook Shout makes (signing day) even more relevant for today's students by giving them a way to leave video messages alongside their written signatures.
Overland Park, KS (PRWEB) January 14, 2014
Walsworth Yearbooks announced it is taking the tradition of yearbook signing day to the next level with its exclusive new mobile app, Yearbook Shout.
"Yearbook signing day has always been a long-standing tradition and is part of what makes a yearbook such a precious keepsake, and now Yearbook Shout makes that experience even more relevant for today's students by giving them a way to leave video messages alongside their written signatures," said Don Walsworth, president of Walsworth.
Yearbook Shout gives parents and students the ability to leave video messages, or "Shouts," for one another. Yearbook purchasers receive a sticker sheet of Yearbook Shout codes unique to their yearbook. Then, they will scan a code using Yearbook Shout, Walsworth's exclusive app powered by stkr.it, and record personal video shouts for their friends. When they sign their friend's yearbook, they can include the sticker code and video message.
Walsworth has partnered with stkr.it, a technology company that specializes in associating text, audio and video messages with printed material, to be the first yearbook company to bring this personalized video experience to market.
"Adding digital excitement to printed materials is at the core of who we are," said Mike Newman, president of stkr.it. "Walsworth's commitment to innovation makes them the perfect partner to bring this technology to the yearbook experience."
Walsworth announced Yearbook Shout on Jan. 3, 2014, at the company's annual national sales meeting in Fort Myers, Fla.
"Our partnership with stkr.it demonstrates Walsworth's continuing leadership to embracing mobile technology and creating solutions that enhance the value of yearbooks in ways that are meaningful to students and parents," said Walsworth.
About Walsworth
Walsworth Publishing Company is among the 50 largest printing companies in the U.S. The company is among the top five yearbook printers and is the only American- and family-owned publisher of yearbooks. Started in 1937 by Don Walsworth, current leadership is under the second and third generations: Don O. Walsworth, CEO, and his son, Don Walsworth, president. The company operates from administrative offices and printing and binding facilities in Marceline, Mo., a prepress facility in Brookfield, Mo., a sales and marketing office in Overland Park, Kan., and a printing facility in Saint Joseph, Mich. Additionally, Walsworth owns the Donning Company Publishers in Virginia Beach, Va., a specialty book publisher, and The Ovid Bell Press in Fulton, Mo., a printer of journals and magazines.
About stkr.it
stkr.it, inc. develops innovative products and services that empowers the connection of the digital and physical worlds. stkr.it partners with leading consumer product companies and retailers to bring this technology to a variety of channels around the world. They are headquartered in Ann Arbor, MI. Learn more at http://www.stkrit.com.