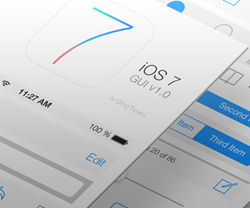 All apps submitted to the iTunes App Store face certain rejection if not optimized for iOS 7
New York City, NY (PRWEB) January 14, 2014
Apple, Inc. recently announced changes to its iOS application developer guidelines, requiring all mobile app submissions from iPad and iPhone app developers to be optimized for the iOS 7 operating system. All apps submitted to the iTunes App Store for review on or after February 1, 2014 must comply with the new guidelines, or they will be automatically rejected and denied distribution through Apple's app marketplace.
"Apple is pushing the iPad and iPhone app developer community to update their apps to iOS 7, and will not hesitate to reject all apps which do not conform to the new guidelines," says Marc Fischer, CEO of DogTown Media, a Los Angeles, California based mobile development agency. "The policy is intended to optimize the in-app user experience, as market research shows almost 80% of iPad and iPhone device users are already running the iOS 7 operating system."
"Outdated apps create a suboptimal user experience and can detract from the overall value of a company's brand," continued Fischer. "Old apps also generate significantly higher rates of negative reviews, which can severely limit their profit potential."
The move is part of a concerted strategy on the part of Apple, Inc. to create a unified mobile environment and optimize operational compatibility with the iOS 7 operating system. According to TechCrunch, when the new iOS developer guidelines come into effect, all submissions must be built using the most recent version of Apple's Xcode 5 app development software. In addition, all new apps are required to use Apple's iOS 7 software development kit (SDK), and app interfaces must be programmed in accordance with iOS 7 best practices.
DogTown Media LLC is pleased to announce that the iPhone app development company will offer a free initial consultation to businesses and software developers seeking assistance for their efforts to conform to the new guidelines. The company has created an iOS 7 app development tutorial, explaining best practices and advantages to updating older apps to conform with the iOS 7 platform.
iPhone and iPad apps which were approved for distribution through the Apple App Store prior to February 1, 2014 are exempt from the new requirements. However, mobile developers wishing to publish updates to preexisting apps must ensure that iOS 7 compatibility is specifically programmed into the new software. Developers are also reminded that Apple will likely scale back technical support for apps not optimized for iOS 7 in the coming months and years.
DogTown Media LLC Company Information:
DogTown Media is an app development agency focused on designing and developing cutting-edge apps for venture-backed start-ups and established businesses. The company was founded by a team of Android and iPhone app developers devoted to breaking the boundaries of technology through disruptive innovation.
Interested parties are invited to submit email queries to contact(at)dogtownmedia(dot)com, or visit the DogTown Media website for more information.