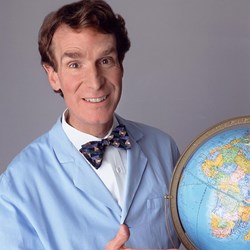 Los Angeles, CA (PRWEB) January 15, 2014
After suffering a leg injury during a fall on "Dancing With the Stars," Bill Nye the Science Guy received an innovative treatment known as platelet-rich plasma therapy (PRP) in the hope of returning to the stage in the subsequent week. Return he did, and he brought with him a layman's explanation of PRP, the kind of science-made-simple description his legions of fans know him for.
According to Nye, he received "platelet-rich plasma, which is where they take platelets from your blood in your arm, and poke them into the tendon and to-be-repaired area. It excites the cells in the right way to bring 'em around faster than they would otherwise."
Say James Hays, President and CEO of PlasmaGenix, Inc. in Los Angeles, "Mr. Nye's description is nearly spot on in terms of how regenerative medicine speeds healing — though I'd suggest that the next time he needs a treatment, he pays a visit to our offices. We don't 'poke' our patients anywhere during PRP therapy!"
Dr. John Simmonds, an orthopedic surgeon and Chief Medical Officer, further explains the technicalities of how PRP works. "The procedure starts by drawing blood from a patient. This blood is spun in a centrifuge to concentrate the platelets and growth factors. When injected into the site of an injury, the PRP has the potential to supercharge the healing process and reduce pain."
PlasmaGenix is a biologics company located in Inglewood, California. Our three lead products, PlasmaNeu, PlasmaGen and PlasmaPro, have been used for over a decade to treat chronic non-healing wounds and preventing amputations in high risk populations, and peripheral neuropathy associated with HIV and Diabetes. Science has recently shown that the body has enormous potential to heal itself. Regenerative medicine is an exciting area in medicine that is evolving very rapidly and PlasmaGenix is proud to be at the forefront of developing new therapeutics to treat a wide variety of chronic conditions. We can now deliver products to accelerate the body's own natural healing mechanisms and enrich the body's inherent ability to repair and regenerate.
The culmination of over 3 decades of clinical experience and research gave birth to PlasmaGenix which is poised to be a leader in the field of regenerative medicine. To date, PlasmaGenix has successfully treated over 10,000 patients for various neurologic conditions, chronic non-healing wounds, sports related injures as well as muscular sclerosis and Charcot-Marie Tooth disease.