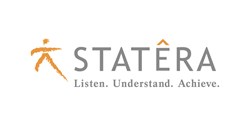 Congratulations to Katie for this certification. She has worked with Statêra for almost 8 years as we have been very lucky to have her. - Carl Fitch, CEO, Statêra
Englewood, CO (PRWEB) January 14, 2014
Statêra, "We Make Cloud and IT Services Easy™," announces Katie Spencer's completion of the PHR certification. The HR Certification Institute certifies that Katie Spencer has demonstrated mastery of both HR practices and United States laws and regulations. Additionally, the certification shows dedication to ongoing learning and professional development through the recertification process. Statêra recognizes the hard work and commitment of its employees and applauds Katie for her continued diligence and enthusiasm that shows not only in this certification but also in her work every single day.
"I am so very thrilled to have achieved my personal and professional goal of getting certified in the field of Human Resources. I look forward to continuing to grow my skills and putting this knowledge to use at Statêra," remarked Katie Spencer, HR Generalist/Payroll Administrator, Statêra.
"Congratulations to Katie for this certification. She has worked with Statêra for almost 8 years, and we have been very lucky to have her," commented Carl Fitch, CEO of Statêra.
About Statêra
Statêra is a leading IT services provider that helps companies to optimize performance by mapping strategic goals and objectives to IT initiatives. With over a decade of experience, Statêra leverages best practices and uses today's top technology solutions to provide powerful insight into your enterprise, solve your mission-critical problems, drive return on investment and transform your business. We are experts in moving our clients to the Cloud, CRM, web and mobile platforms, and collaboration software, as well as custom software applications development. Our IT services, IT project management, strategy consulting and managed cloud services brokerage balance people, process and technology to get your technology needs met on time and on budget. Headquartered outside of Denver, Colorado, Statêra has local offices in Dallas, Texas; Phoenix, Arizona; Salt Lake City, Utah; and Seattle, Washington, near and off shore delivery centers, and clients worldwide. Call us at 1.866.697.0266 or visit http://www.Statera.com.