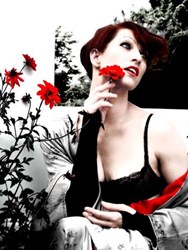 I think people have been obsessed with the wrong question, which is, 'How do we make people pay for music?' What if we started asking, 'How do we LET people pay for music?'
Seattle, WA (PRWEB) January 20, 2014
In a recent interview with Women For One, musician and artist Amanda Palmer talks about her recent TED Talk, "The Art of Asking," and how having the courage to ask for help has made her a more conscious musician. According to Palmer, accepting support and trusting in humanity has always been a practical means of connecting with and understanding her audience. "The TED talk was an incredible opportunity because I feel like I was handed back the microphone to explain how I had been misunderstood and where I was fundamentally coming from," says Palmer. Palmer, of course, is referring to her Kickstarter-based crowd-funded album, and the controversy surrounding the choice to strike out on her own and ask her fans to contribute to an artist they admire.
"The Art of Asking" talk Palmer gave at TED was meant to explain how no two artists are the same – they are all humans just like their fans. Thus, an artist's needs when it comes to the production of their art differ wildly. This is why, as she explains to the Women For One community, the romance surrounding artists can be very wonderful, but also very limiting in the expectations and idealized image of an artist.
As an artist, Palmer raises a great point in questioning why art must be separated from money. She says she has had to face her own demons in regards to art and commerce - including the stigma of asking for funding to be able to produce albums. Much of that stigma, she feels, is based on unrealistic standards for performers. This is not an old debate - many well known artists have recently struck out on their own because of the waning support from and for the music industry as we know it.
In the interview, Palmer also describes her experience speaking at the United Nations, and the intimidation she felt speaking in front of ambassadors and world leaders. To be able to affect change with her speech at the UN, Palmer felt that the stakes were incredibly high – she says she had to leave her ego behind and took on more of a serving role, as a vessel for humanity.
So what does it mean to become a next-level performer - to fashion a truth and tell a story as intimate as "The Bed Song"? Palmer says to write music that evokes such strong emotions, she must play two roles at once – both songwriter and audience. She says she cried while writing the song, a reaction that she hadn't planned on. She realized that it's not important to know why the song produced that reaction, just that those feelings are truly experienced. That experience is one of the most important points in storytelling – and one of the reasons that the Women For One community asks for authentic stories from their readership.
Women For One is a global community encouraging women to share authentic stories with women around the world. Their mission is to inspire women to better their communities through connection, authenticity, and transformation.