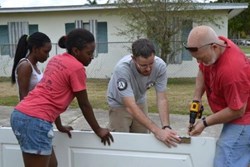 Miami, FL (PRWEB) January 14, 2014
On Monday, January 20th, 2014, Branches will celebrate and honor Dr. Martin Luther King, Jr. through a day of community service. Branches staff, its team of AmeriCorps members and almost 300 volunteers will spend the day beautifying Florida City and South Miami through several painting, planting and other service projects.
Thank you to Molina Healthcare who is the title sponsor of this great event. Branches would also like to thank its partners for making this day of celebration possible: AmeriCorps, Branches United Methodist Mission, Faithful Home Services and Florida City Mayor's Office.
Branches Florida City will celebrate the 4th Annual "Florida City, Love Yourself". Volunteers will revitalize 6 homes in the Florida City community, helping those families in need on this special day. Volunteers will also be painting murals at the local Elementary School and at Florida City's Post Office. The activities will take place at Branches Florida City located at 129 SW 5th Avenue, Florida City. The day begins at 7:30am with Registration and an Opening Ceremony, followed by the Community Service projects. At 12:30pm, lunch will be served, accompanied by a Closing Ceremony. Some volunteers are requested to stay after lunch and finish up certain projects until 2:00pm.
Branches South Miami is celebrating the 2nd Annual "SoMi Lights" MLK Day of Service by hosting several volunteer projects including painting, landscaping, organizing and cleaning the local neighborhood. Branches South Miami is located at the First United Methodist Church of South Miami, 6565 Red Rd, South Miami and activities will run from 9:00am – 1:00pm. In addition, on February 8th, Branches and the South Miami MLK Committee will be hosting the "MLK Remix", a free outdoor Arts and Culture Festival at The Bethel-Gibson Community Center. International recording artists will perform, food vendors will be on site, including fun activities for children and families. Free tax preparation services and Affordable Health Care Act Assistors will also be on hand. More details at http://www.mlkremix.org. The MLK Remix is made possible with the support of the Miami-Dade County Department of Cultural Affairs and the Cultural Affairs Council, the Miami-Dade County Mayor and Board of County Commissioners.
To sponsor this special event, please contact Isabelle Pike at 305-442-8306 x1002 or ipike(at)branchesfl(dot)org.
______________________________________________________________________________________
About Branches
For 40 years, Branches (formerly South Florida Urban Ministries) has made a positive impact in the community by delivering on its mission to serve, educate and inspire people through student, family and financial stability services. Branches provides long-term, holistic services for motivated individuals and families. We help people grow deeper and climb higher in life by building a foundation through education so they can achieve their goals and fulfill their potential. For additional information about Branches, please call 305.442.8306 or visit http://www.branchesfl.org.