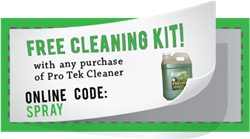 We love to put these promotions out there!
(PRWEB) January 15, 2014
Pro-Tek Chemical is releasing a promotion for the New Year. Order any size of Pro-Tek and receive a complimentary cleaning kit in the process. The promotion is scheduled until supplies last. So the company encourages everyone to take advantage of this offer as soon as possible.
The all purpose cleaner company is excited to see these complimentary cleaning kits into the hands of our amazingly supportive customers. This is just a small gift that Pro-Tek Chemical hopes will come as a delight to our supporters. Participating in these types of promotions is the company's way of saying thank you to customers for their loyalty and sustenance.
Company representative, John Nelson says, "We love to put these promotions out there. It's just a perk of being a loyal Pro-Tek customer! These cleaning kits are a great for getting the grime off of just about anything so we're excited to be giving them out like this!"
The kits usually retail for $14.95, so it is a great deal for old as well as new Pro-Tek customers. The kit includes three pieces of scotch bright abrasive pads, 2 green aggressive and 1 white non-aggressive, to make cleaning difficult buildup problems easier, one 16 ounce spray bottle with multi stream sprayer with an easy to read dilution scale and directions for use on the bottle and three wood handled wire brushes, one steel, one brass and one nylon. These are impressively efficient tools to use while working with Pro-Tek Chemical.
Customers are assured that this coupon code is only valid for as long as supplies last. The online coupon code is SPRAY. It must be in all caps for the code to work. The company hopes that this promotion will kick things off to a great New Year, as well as send out a thank you to all of the valued customers.
More about Pro-Tek Chemical
Pro-Tek™ Cleaner was originally created over 30 years ago for the lumber industry to help remove pitch and sap from saws and clothing. Within a few months of its creation, people were using it for many other purposes and our company was born. Pro Tek Chemical is a green chemical solution that can be used on multiple surfaces. It is an all-purpose cleaner that is safe for the environment. The cleaner can be purchased at http://www.protekchemical.com.
###