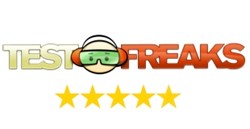 Stockholm, Sweden (PRWEB) January 15, 2014
TestFreaks, the global product review specialist based in Stockholm, Sweden, feels that the January 8, 2014 decision doled out by the US Department of Justice (case number 13-cv-00133_WHO - Northern District Court of California) related to breaking up Bazaarvoice's effective monopoly will benefit not only competitors but also online retailers, and ultimately, consumers stand to gain the most.
For the past three years TestFreaks has been focused on collecting, delivering and presenting product reviews in a very creative and innovative manner to leading retailers in Europe, Asia and Latin America. One specific example of this innovation that global consumers are embracing is the use of expert reviews. "While it is nice to see that 100 consumers think a product is good or bad this often does not give future buyers enough detail to make an appropriate choice," says the company co-founder, Martin Alexanderson. By incorporating expert reviews as well, consumers will see well thought out and in-depth product descriptions which enable much more informed decisions.
Now that the US market will be a fairer and more open one, TestFreaks has started their launch in the US, which includes dramatically expanding their physical presence in the market.
"I think the real winner here is the US consumer," says Jens Larsson, the company's CEO. He goes on to say, "There are many other ways to present product review content that have been statistically proven to lead to higher sales conversions rates." What this means is that when consumers interact more with reviews, they will buy more, driving up sales conversion rates."
To better understand and explore innovative alternatives to Bazaarvoice's service, please visit http://www.testfreaksdata.com.
About TestFreaks: From the Founders of the European price comparison website PriceRunner, TestFreaks enables review content for B2C retail websites worldwide. Through its operation of consumer review sites in 30+ countries, the company has aggregated more expert and consumer product reviews in more languages than any other source in the world. TestFreaks is a pre-IPO company which is well funded by its venture capital partner, Northzone.