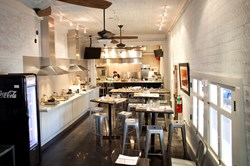 Langlois Culinary Crossroads has been named 'Best Cooking Schools Around the World.'
New Orleans, LA (PRWEB) January 15, 2014
Langlois Culinary Crossroads, an innovative New Orleans-based dining experience combining the quality of a restaurant with the style of a cooking school, is currently celebrating its one-year anniversary. Since its opening in November 2012 by Amy Cyrex Sins, international award-winning cookbook author and reality cooking competition winner, Langlois has quickly been embraced by tourists and locals alike and has been named one of the "Best Cooking Schools Around the World" by Travel & Leisure for its engaging Cajun/Creole culinary classes. Located in the historic Marigny neighborhood of New Orleans, Langlois offers a restaurant-quality meal and learning opportunity in a restaurant-style kitchen.
"It is so exciting to have the opportunity to follow my dream," says Chef and Owner Amy Cyrex Sins, a Louisiana native. "I wake up every day looking forward to the time I get to spend with my staff and guests doing what I love—cooking. It doesn't hurt that I get to do it in a city close to my heart filled with history and culture."
Amy and her talented team of local chefs offer the highest-quality level classes, each with a personal and valuable opportunity to learn about history of the location, New Orleans culinary history and shortcuts to cooking that the pros don't share. Also on tap are Iron Chef-style cooking competitions, corporate team-building activities, and private dining events for groups of all sizes. In addition to private, hands-on cooking classes and cook-offs, guests can enjoy an array of tasting menus and wine pairings. Participants even get to take the restaurant-style recipes home so they can impress friends and family with a not-so-home-cooked meal in the future.
Langlois carries on the tradition of namesake Madame Langlois, the mother of Creole cuisine. A housekeeper to the governor of French Louisiana, Langlois invited newly settled French women in New Orleans into her kitchen. There they learned a unique fusion cuisine combining French culinary traditions with local ingredients and the foodways of nearby Indian tribes. Langlois' historic classes were at the "culinary crossroads" marking the beginnings of Creole cuisine. Built inside of Ferrara & Son's, a turn-of-the-century Sicilian market, Langlois represents a rich history of culture and food. Original wooden barges remain intact from the 1850s, bridging the gap between the old location and modernized kitchen.
Langlois continues to celebrate the history of Cajun and Creole cuisine in Louisiana with the benchmark of its one-year anniversary in New Orleans. Join the fun by reserving a class at http://www.langloisnola.com or by calling 504-934-1010. All classes are by reservation only.
About Langlois Culinary Crossroads
Built inside a turn-of-the-century Italian market in the historic Marigny neighborhood, Langlois Culinary Crossroads is a next-generation New Orleans dining experience, combining the quality of a restaurant with the style of a cooking school. Currently celebrating its one-year anniversary, Langlois offers hands-on and demonstration Cajun/Creole cooking classes, private dining events, and team building activities. For more information and to book a class, visit http://www.langloisnola.com.
###