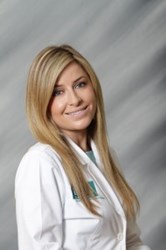 It is very common for people to develop brown spots or discoloration on their face as they age or have prolonged sun exposure.
San Diego, CA (PRWEB) January 15, 2014
In a newly released YouTube video, skincare expert and cosmetic dermatologist Dr. Sabrina Fabi exhibits the new laser treatment system Clear + Brilliant on a patient seeking to minimize uneven pigmentation throughout her face. At Cosmetic Laser Dermatology in San Diego, Dr. Fabi regularly performs a variety of laser treatments on patients who want to achieve a smoother and more even skin tone.
"It is very common for people to develop brown spots or discoloration on their face as they age or have prolonged sun exposure. Thankfully, there are several very effective laser treatments known to reduce brown spots and Clear + Brilliant is one of them," stated Dr. Fabi.
In the video, Dr. Fabi describes the Clear + Brilliant system as a gentler and less invasive alternative to the Fraxel Dual laser treatments. Patients who undergo the Clear + Brilliant system enjoy a virtually painless procedure with no downtime and only slight redness in the face the day after the treatment. Dr. Fabi expertly administers the treatment over the affected area and the patient sees noticeable results soon after their recommended number of treatment sessions are completed.
"Most patients will require 3-4 treatments in order to see the most optimal results. The treatments are quick to perform, very gentle and do not interfere with the patient's daily activities. The Clear + Brilliant treatment is ideal for patients who specifically want to address unwanted brown spots but cannot afford to have a lengthy period of downtime," explained Dr. Fabi.
Unlike traditional fractional laser skin resurfacing treatments, Dr. Fabi recommends Clear + Brilliant laser treatments for patients with darker skin tones. As an expert cosmetic dermatologist, Dr. Fabi is able to determine which treatment is the safest and most appropriate for a wide variety of skin types. In the video, Dr. Fabi encourages patients to only seek laser treatment from a board-certified dermatologist or qualified medical professional who specializes in lasers.
"Laser treatments are safe and effective when performed by highly trained and experienced doctors. Patients with brown spots and discoloration on their face have several innovative treatment options available to them, but these treatments should only be administered by certified laser experts," said Dr. Fabi.
Sabrina G. Fabi, MD, is a double board certified dermatologist and cosmetic surgeon who serves as the head of research and clinical trials at the landmark dermatology center of Goldman, Butterwick, Fitzpatrick, Groff & Fabi in San Diego. As a specialist in laser and injectable treatments, Dr. Fabi helps patients achieve ideal aesthetic results through multiple cutting-edge procedures including non-invasive Ulthera skin-tightening, Photodynamic Therapy, Sclerotherapy, and volume restoration with dermal fillers. As a highly-respected dermatologist, Dr. Fabi believes in developing a unique and custom treatment plan for each and every patient she sees.