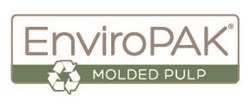 It's exciting to be entering 2014 with a fresh look to go along with our ambitious growth plans for the new year.
St. Louis, Mo. (PRWEB) January 15, 2014
EnviroPAK, manufacturer of molded pulp packaging for the protection of a wide range of products, launched its new website at http://www.enviropak.com. The website features the company's new brand identity and focuses on showcasing the creative and cost-saving applications of its internal design team. The website also offers visitors dozens of examples and case studies of the best, most innovative ways its molded pulp material has been used by its growing customer base in the last 24 months. Special attention was given to creating a web site conducive for viewing on mobile platforms, an overture to busy distributor partners who travel intensively around the U.S.
"We're excited that our new brand identity and website are launching at the same time," said Chris Miget, President of EnviroPAK. "It's exciting to be entering 2014 with a fresh look to go along with our ambitious growth plans for the new year."
The new brand identity and color palette reflect EnviroPAK's commitment to the benefits its products offer to environmentally conscious customers, a key benefit as stated by its customers over the last 24 months. Customers and distributor partners will be able to more easily access EnviroPAK videos and comfortably navigate through all of EnviroPAK's social media channels. Case studies featuring companies that have worked with EnviroPAK and their custom molded pulp packaging solutions were also added to the site, reminding users of molded pulp's benefits, both economically and environmentally.
EnviroPAK produces a transfer molded thin wall product, the most prevalent type used in the industry today. The process uses a forming and transfer die with a standard thickness of 1/16 of an inch and has provided soft protection for eggs and light bulbs for more than 100 years. Today, this tried and true technology provides great accuracy and definition for moderate to high volume products.
About EnviroPAK
Founded in 1995, EnviroPAK's mission is to provide sustainable molded pulp packaging solutions to businesses that are cost-efficient, space-saving and environmentally friendly. Its central U.S. location allows EnviroPAK to produce protective molded pulp packaging for electronics, computer, food and beverage, service medical and telecommunication markets. EnviroPAK's award-winning in-house design team has been recognized for their packaging including an Institute of Packing Professionals AmeriStar Gold Award and a Technology and Innovation Award from the St. Louis Economic Council. Operating out of two facilities occupying more than 125,000 sq. ft., EnviroPAK offers the highest quality molded pulp products aimed at delivering world class sustainable packaging solutions for some of America's top companies through its valued distributors network. For more information, please visit http://www.enviropak.com.