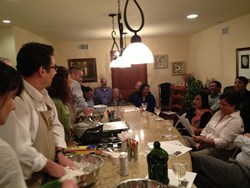 San Diego, CA (PRWEB) January 15, 2014
Lajollacooks4u finished 2013 strong; the company explored new directions by joining a foodie festival and adopting new recipes, while also welcoming a number of fun and memorable guests who participated in the fabulous gourmet cooking and dining experience offered at Lajollacooks4u.
Chef Jodi, founder of Lajollacooks4u, explored new cuisines during 2013 while expanding her culinary repertoire with two cooking classes; one in Paris and one in Barcelona. While on her European culinary adventure, Chef Jodi gained a number of new recipes for traditional dishes that incorporate the authentic flavors and styles of Cataluña, Barcelona and Paris. These delicious recipes were brought to Lajollcooks4u and were added to the list of options participants can now select when deciding on the cooking class's menu.
Lajollacooks4u experienced a record-breaking number of team building events with companies whose markets range from biotechnology to software, banking and finance, and multinational travel insurance. With Lajollacooks4u's hands-on and playfully competitive cooking challenges, the participating companies were thrilled with the way Lajollacooks4u boosted their team's morale and sense of unity through an exciting and delicious outlet.
Lajollacooks4u also welcomed many couples from across the country celebrating special occasions such as birthdays and anniversaries, as well as a loving military couple's reunion. Lajollacooks4u also hosted a fabulous wedding shower, and greeted two traveling groups to La Jolla and Lajollacooks4u: a globetrotting family from Australia and the adventure-loving Traveling Chicks from Arizona. Lajollacooks4u also welcomed back a three-time client for her second visit in 2013. For her first visit, Patti brought her nonagenarian mother, while the second visit included her daughter in law and two friends. All loved the experience and the fun memories Lajollacooks4u provided.
Throughout the year, guests have shared with Chef Jodi their excitement and positive thoughts regarding their experience via thoughtful emails, high Tripadvisor ratings, and kind notes left in Lajollacooks4u's Guest Book. Lajollacooks4u had an equally wonderful experience with those that joined Chef Jodi in her kitchen this year. The guests that come into Chef Jodi's kitchen to bond and create memories with each other also leave lasting memories with Lajollacooks4u.
About Lajollacooks4u
Lajollacooks4u, founded in 2008, provides a unique and intimate activity for couples, corporate team-building, and any foodie looking for a unique cooking and culinary experience in an ideal setting overlooking the Pacific Ocean. Based in La Jolla, a suburb of San Diego, CA, Lajollacooks4u has enjoyed record growth since its inception and is ranked as a top attraction in La Jolla on the world's largest travel review site, Trip Advisor. For more information, contact Jodi Abel at jodi@lajollacooks4u.com or phone 1-858-752-4980
Lajollacooks4u customizes all events to meet the desires and needs of the organization. For reservations, contact Jodi Abel, as listed above, or visit Lajollacooks4u's website at http://www.lajollacooks4u.com