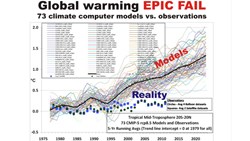 Climate change is mainly driven by the sun....CO2 emissions from human activity have a nominal effect on climate.
Calgary, Alberta, Canada (PRWEB) January 16, 2014
Friends of Science are concerned about fair reporting on climate change in the media, in light of reports the British Broadcasting Corporation reportedly spent some £20,000 over six years fighting off a Freedom of Information request about a 2006 climate change conference for executives, as reported in the Daily Telegraph of the UK Jan. 12, 2014 and several British newspapers.
In Britain, the climate change conference was for key BBC executives and featured activists like Blake Lee-Harwood, the head of campaigns at Greenpeace and Ashok Sinha of "Stop Climate Chaos." Climate blogger, Tony Newbery, ran across reference to it and requested access – which lead to a long battle by the BBC to prevent disclosure.
The International Broadcasting Trust (IBT) lobby group reportedly assisted in arranging the conference, hoping to drive up coverage of environmental matters and the developing world. A report on climate change coverage in television in Britain by the IBT indicates that climate change stories are boring to television viewers.
The study found that six years after production, the skeptical documentary "The Great Global Warming Swindle."..."it's still the film mentioned most often during the course of our interviews as staying in the minds of programme makers."
Friends of Science have concerns about balanced media coverage on climate change in Canada.
Norm Kalmanovitch, P. Geoph. and member of Friends of Science points to an Aug. 11, 2011 CBC story on coal-fired power generation plants.
"If you cross-check the AP photo file cut-line information, you find this is an image of a Kansas coal plant of the late 70's early 80's vintage," says Kalmanovitch. "In 2013, CBC used the Canadian Press supplied image of a 2009 AP file photo by Martin Meissner of an older coal plant in Geisenkirchen, Germany for a Pembina Institute report demanding early closure of coals plants, claiming deaths and high medical costs due to coal emissions."
"These images do not represent the modern coal facilities in Alberta," says Kalmanovitch. "New coal plants in Alberta capture 99.9 % of particulate emissions."
Alberta coal-fired plants use supercritical boilers, pulverized coal for a complete burn and advanced emissions 'scrubbers.' Emissions are very low; dispatchable, reliable power very high.
Friends of Science along with award-winning author and economist Ross McKitrick rebutted the Pembina Institute's demand for early closure. In "Costly Misinformed Diagnosis" they demonstrated that Pembina Institute had misinformed the public, reporting that coal plants were responsible for 6% Particulate Matter 2.5 (PM 2.5 emissions) when in fact the coal plants only emit 0.4% PM 2.5.
Residential fire places in Alberta produce three times the particulate matter of coal plants, a fact not found in the Pembina Institute report.
"If the story is about Alberta plants, that's what should be shown, these facts should be told " says Kalmanovitch.
The December 2013 issue of Alberta Venture magazine article quoted the viewpoint of climate scientist, MLA and Deputy Leader of B.C.'s Green Party, Andrew Weaver, an IPCC climate change author saying: "Frankly I think there is no future for [thermal] coal."
"No future? Germany is building over 20 coal plants,
says Kalmanovitch. "The new plants will mirror advanced technologies first implemented here. Albertans should be fairly informed by our own media."
"We've had 16 years of no global warming. Climate change is main driven by the sun, not CO2," says Gregory. "CO2 emissions from human activity have a nominal effect on climate. Canadians need cheap, reliable power, not climate change rhetoric."
About
Friends of Science have spent a decade reviewing a broad spectrum of literature on climate change and have concluded the sun is the main driver of climate change, not carbon dioxide (CO2). The core group of the Friends of Science is made up of retired earth and atmospheric scientists.
Contact:
Friends of Science Society
P.O.Box 23167, Connaught P.O.
Calgary, Alberta
Canada T2S 3B1
Toll-free Telephone: 1-888-789-9597
Web: friendsofscience.org
E-mail: contact(at)friendsofscience.org