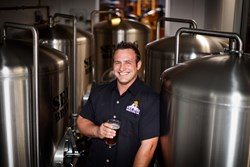 "Demand for Shipyard and Sea Dog beer here in Florida has been very strong and the craft beer movement continues to grow," said owner Fred Forsley. "We are very excited to be part of that growth and to be brewing in Florida again."
Clearwater, Florida (PRWEB) January 15, 2014
Sea Dog Brewing Company has broken ground on its new 20 barrel brewery at the Sea Dog Brew Pub in Clearwater, Florida. The concrete is being poured today and the containers of brewing equipment are being moved on site from Orlando.
The 20 barrel system hails from the Shipyard Brewport which used to operate at the Orlando International Airport as the world's first airport microbrewery.
The brewery at the Sea Dog in Clearwater will produce award-winning beer from Sea Dog and Shipyard Brewing Companies as well as special limited edition brews only available at the pub.
Florida native Bobby Baker has been named head brewer at the location and the brewery is expected to open in March. The goal is to produce 10,000 barrels annually and there is room for expansion.
The Sea Dog Brew Pub opened in February 2013 on U.S. 19 in Clearwater. Photos of construction will be posted weekly on the brew pub's Facebook page: https://www.facebook.com/SeaDogClearwater.
"Demand for Shipyard and Sea Dog beer here in Florida has been very strong and the craft beer movement continues to grow," said owner Fred Forsley. "We are very excited to be part of that growth and to be brewing in Florida again."
About Sea Dog Brewing Company: Our beers are brewed in a traditional English style using only the highest quality ingredients like English two-row malted barley and British top-fermenting Ringwood yeast. Our English brewing style results in brews with a distinctive, refreshing taste and crisp finish. Founded in 1993 on the coast of Maine, our crew brews a full line of award-winning handcrafted ales that capture the spirit of Maine's sea-faring history. Pubs located in Maine (South Portland, Topsham, and Bangor) and Florida (Clearwater and Orlando). http://www.seadogbrewing.com
About Shipyard Brewing Company: Founded in 1994, Shipyard Brewing Company is located on the historic waterfront in Portland, Maine and produces 20 varieties of award-winning English style and seasonal beers. Its products are distributed in over 35 states. The Brewers Association ranks Shipyard as the 15th largest craft brewery in the U.S. and 23rd overall. In 2013, the brewery produced 160.060 barrels (2,288,300 cases) of its award-winning brews. http://www.shipyard.com
Facebook: https://www.facebook.com/SeaDogClearwater
###