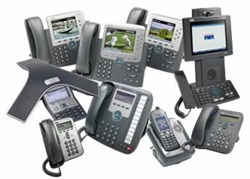 Cisco 7900 Unified IP Phones can help improve productivity by meeting the needs of users throughout your organization.
Niagara Falls, New York (PRWEB) January 16, 2014
Thanks to affordable IP endpoints in the Cisco 7900 unified IP phone series, more organizations can now take advantage of IP communications. Telephone Magic Inc. is an online leader in providing replacement and spare Cisco 7900 IP phones at wholesale prices.
Jeff Jackson, president of Telephone Magic, indicates, "When our clients call for Cisco IP endpoints we offer a wide spectrum of phones to suite a variety of budgets and Voice over IP network needs. Unlike anonymous shopping cart websites that can have out of date prices, we offer clients a personal relationship with a representative they get to know. We consult them to narrow their requirements and provide current wholesale pricing."
Mr. Jackson continues, "Most of the Cisco 7900 IP phones allow users to take full advantage of converged voice and data networks while retaining the convenience and user-friendliness now expected from a business phone. Cisco 7900 Unified IP phones can help improve productivity by meeting the needs of users throughout your organization. Advanced media endpoints in this innovative suite of Cisco Unified IP phones enhance the end-user experience."
There are more than a dozen models and three conference phone options available in the Cisco 7900 IP phone series. Popular models include the 7931G IP phone, 7942G IP telephone, and 7937G IP conference phone.
The Cisco 7931G IP phone (CP-7931G) meets the communication needs of retail, commercial, manufacturing workers, and anyone with moderate telephone traffic but also specific call requirements. The 7931G is designed to grow with an organization. A dynamic, soft key-activated feature set enables the phone to keep pace with user requirements through regular software upgrades. Moves, adds, and changes are easy; users can simply pick up their phones and move to a new location anywhere on the network. The Cisco 7931G phone also provides accessibility features to those with special needs.
The Cisco 7942G IP phone (CP-7942G) is a full-featured IP phone with speakerphone and handset designed for wideband audio. It is intended to meet the needs of transaction-type workers with significant phone traffic. The 7942G has two programmable backlit line/feature buttons and four interactive soft keys that guide you through all call features and functions. Firmware changes can be downloaded from Cisco.com. No hands-on moves and changes are required with the phone as, similar to the 7931G model, users can simply pick up the phone and move to a new location anywhere on your network. The Cisco 7942G phone also provides many accessibility features.
The Cisco 7937G IP conference phone combines state-of-the-art wideband speakerphone conferencing technologies with award-winning Cisco voice communication technologies. The 7937G is a full-featured, IP-based, hands-free audio conferencing telephone which is designed for use on desktops, in conference rooms, and in executive suites. Optional 7937G extended microphone kit increases room coverage up to 30 x 40 feet.
Jackson adds, "The Cisco 7900 unified IP phone series provide IP phones with color liquid crystal display (LCD), including dynamic soft keys for call features and functions, support for information services, including Extensible Markup Language (XML) capabilities to extend IP phone systems, the capability to customize XML-based services to let users access a variety of information, such as stock quotes, employee directories, and web content, and much more. As such, we are pleased to offer continued support for this line of phones".