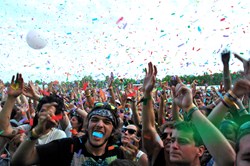 (PRWEB) January 21, 2014
Explore Talent news reports an enormous buzz this week surrounding the highly anticipated Firefly Music Festival this June.
This will be the third installment for the festival. It began in the Summer of 2012 and was started by Red Frog Events. It has quickly become one of the most celebrated musical events in the country and the world. It is held at the Woodlands of Dover International Speedway in Dover, Delaware. It is an enormous, multi-stage outdoor Woodstock-style venue that attracts a gigantic crowd every year. In addition to the musical acts, there are many other outdoors and tent-oriented events and activities that the audience can participate in. It's also a great place for amateur musicians to network and line up musician jobs and singing jobs.
Of course, the main question on everyone's mind every year concerning Firefly is: Who's playing? For this year's event, June 12-22, 2014, the lineup is sure to not disappoint. Outkast is back together and scheduled to appear as part of their festival tour this year. The Foo Fighters and Jack Johnson will be headlining the event. Other participants include Weezer, ZiggyMarley, Chance the Rapper, and American Authors. The video announcing the full lineup, as well as the list, can be viewed here.
The Festival has grown in attendance and star power every year so far, and we expect this trend to continue.
Since its debut in 2003, ExploreTalent has become the Internet's largest resource for actors, models, musicians, dancers, and production crew. Explore Talent's proprietary cast match technology is the most advanced entertainment-based technology of its kind. It matches a talent's attributes against tens of thousands of job postings every day. Explore Talent's unique technology sends casting email alerts and posts auditions and jobs directly on talents' profiles, saving members hours of time from tedious searching. Explore Talent has proven to be the best possible destination for talent to find modeling and acting auditions with well over 7.9 million members and over 60,000 auditions, castings, and production jobs listed - 40 times more postings and open casting calls than any other site.
The site's popularity is based on the fact that there are many ways for talents to network, make friends and connect with other industry players, participate in a wide variety of contests and earn prizes for being active on the site. The online community has been responsible for new collaborations and business ventures in entertainment because of opportunities for individuals to network and chat with each other. Furthermore, the Explore Talent site features celebrity videos, exclusive interviews with actors, actresses, and musicians, such as Akon and T-Pain.
Visit, Explore Talent's musician jobs available.