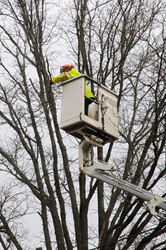 "When trees go dormant during the winter they also lose their leaves, which gives people the perfect opportunity to see their trees shape and make proper adjustments, making winter tree pruning a crucial part of tree care," Fisher says.
Kennewick, WA (PRWEB) January 16, 2014
Senske Services is advising homeowners that now is the time to give outdoor trees and shrubs some much-needed maintenance. Proper pruning can help them to begin spring with a great head start. As General Manager, Tony Fisher explains, the slowed growth of the season gives homeowners the advantage of more accurate pruning.
While forest trees may survive for centuries without pruning, the same is not true for many of the trees planted around homes, farms, and communities. Trees and shrubs planted in these more exposed areas are subject to wind stress and other environmental factors that can lead to dead or diseased branches. Also, snow load on evergreens can cause branches to droop or bend out causing a permanently disfigured plant.
The experts at Senske say the first step to preparing trees for spring is removing any dead branches from trees, since dead branches can be damaging to property and dangerous for any unlucky passersby. They say it is also important to remove any thick bunches of branches that may make it difficult for the tree to get sunlight and air. When removing these branches, the branch should be cut where the branch and twig meet, while making sure to not leave any stubs on the tree that can be used by insects to enter the branch and cause decay.
Late winter is also a prime time to remove any diseased branches from the tree. Diseased wood can effectively be removed now, but branches should be cut off well below the infected area. It is also a good idea to clean cutters with a solution made of bleach and water to help cut down on chances of the disease spreading.
While winter tree pruning is beneficial for trees, it can also be dangerous for untrained pruners. Homeowners should consider calling a trained professional in situations that call for a ladder, nearby power lines, and trees with storm damage or unstable branches. For more information on taking care of trees, visit Senske Lawn and Tree Care for a free estimate.
About Senske Services:
Senske Services, Inc. is a leading lawn, tree and pest control service provider that is locally owned and operated, with its corporate office based in Kennewick, Washington. It has been a trusted source of lawn, tree and pest control services since 1947 across Eastern Washington, Idaho, and Utah, as well as pest control in Las Vegas, Nevada. To see what Senske Services can do for you, visit http://www.senske.com.