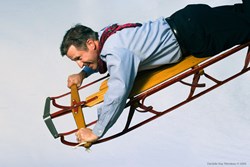 'Sales success is a calculated process. Calls, notes and follow-up are critical to selling.' -Russ Riendeau
Barrington, IL, (PRWEB) January 16, 2014
Snow Day Sales Strategies
By Russ Riendeau, Ph.D.
Chicago, Illinois: WEATHER WARNING: Snow, ice, wind, rain, lightning, tornado advisory warnings until 5pm tomorrow. Today, every event, meeting, seminar, appointment and night classes around the world have been cancelled, closed or delayed due to weather in your area. Stay in your homes.
We all love an excuse to stay home from work, blame the weather on the fact that we can't get anything done, our email system is down, etc. So, now that nobody is expecting to see or hear from you, what can you do that will lead to future sales?
Here's 8 activities sales and management professionals can do before noon, from the comfort of your family room or kitchen table that will pay dividends and make you feel less guilty about taking that nap and catching some cable shows.
1. Write a personal note to 20 of your top customers. Address a standard envelope to your contacts in the CRM system and write a simple note on plain paper if you don't have any notecards at home: Steve, Happy New Year! I'm snowed-in today, so I thought I'd drop you a note to say hello and looking forward to working with you this year. Talk soon, Grant. Personal notes are powerful and we put them off when we're busy. Now is the time to write them.
2. Call 6 new prospects. Even though the person is stuck at home like you, leave a message something like this: Susan, my guess is you're probably snowed in as I am today. Please call me back at to discuss a viable solution to your problem. People respect sales professionals that stay busy even with an excuse to not work. Six messages will take you 20 minutes at the most.
3. Purge your email box. Get rid of the garbage that distracts and stresses you out.
4. Organize your briefcase or workspace. Toss out stuff, re-name files to make sense as to what's in the files. Reset your systems to start fresh.
5. Exercise: Walk around the block in the snow, shovel the drive, shovel your neighbor's drive, do some push-ups—anything to get your heart rate up and keep yourself mentally alert.
6. Eat light, stay hydrated and clean up the kitchen for your spouse or roommate.
7. Play Hemingway. Draft an article for your industry newsletter or magazine. Write down 10 tips to help your customers be more effective or profitable when using your product or service. Write the draft, email it to your boss and ask her to review and add her ideas. Then, send it to the editor of the industry publication to publish it. Now your boss is your writing partner and your customers see you as an expert in your field.
8. Write/review your activity goals for the year. What action steps do you know will lead to more sales? How much more effective can you be by keeping a checklist of activities and calls you make every week? Top sales people measure and track their stats to find the best formula to win.
Contact information: 847-381-0977
Dr. Russ Riendeau is senior partner of the executive search practice, East Wing Group, Inc., specializing in sales and sales management search. He's also the author of a new sales and leadership effectiveness audiobook, First Hide The Poison Arrows, available on Amazon or http://www.audible.com.