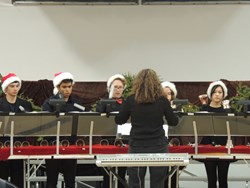 'The residents were so appreciative,' said Patti Nicollela, a Highland Hall Parent who chaperoned the students. 'Some were singing, some crying. It was very moving to share the music that we enjoy as an everyday part of our experience at Highland Hall.'
Northridge, CA (PRWEB) January 29, 2014
Highland Hall Waldorf School high school students brought holiday cheer in December to seniors residing in the Emeritus Assisted Living Center in Northridge. The Highland Hall handbell choir and five string members from the high school orchestra performed for the residents playing seasonal music, concert pieces, as well as the pop hit, "La Vida, La Vida," by the group Coldplay.
"The residents were so appreciative," said Patti Nicollela, a Highland Hall Parent who chaperoned the students. "Some were singing, some crying. It was very moving to share the music that our students enjoy as an everyday part of their experience at Highland Hall."
"Our students were delighted to share the gift of music on their own free time and found it to be a very rewarding experience they won't soon forget," adds Janet Vrudny, Highland Hall's handbell choir conductor. She continues, "We teach music as part of the curriculum at Highland Hall, not only for the skill itself, but because music broadens our students' palettes for communicating, helps them tap into their emotions and even teaches empathy."
The concert at Emeritus was a follow-up to Highland Hall's winter concert on Friday, December 14, which featured the school's high school orchestra, chorus, eurythmy movement ensemble and handbell choir. High school students at Highland Hall all take a music elective and may choose between one of these disciplines.
Highland Hall Waldorf School, located in Northridge, CA, was founded in 1955, and is the oldest Waldorf school on the west coast. It provides Waldorf® Education from Pre-school through High School to families throughout the San Fernando Valley and the greater Los Angeles area. This private school's unique approach to learning successfully addresses the changing needs and capacities of children at each stage of development. Fully 98% of its high school graduates move on to renowned colleges and universities; 42% of Waldorf graduates pursue college majors in mathematics or science. Featuring a curriculum of academically challenging lessons infused with arts and hands-on learning, Highland Hall provides students with a solid academic foundation, the ability to think creatively, a sympathetic interest in the world, self-confidence, and an abiding moral purpose. Highland Hall, a non-profit, independent school, does not discriminate due to race, religion, gender, national origin, disability, or other basis protected by law.