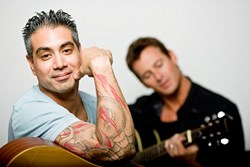 Miami, FL (PRWEB) February 18, 2014
Looking to start the new year off right by learning to play the guitar? Miami guitar teacher Dyce Kimura is offering a special promotion for new Christian students. These students can receive 15% off their first Skype lesson by using the promotional code JOHN 3:16. Kimura is a firm believer in the power of music adding fun and relaxation, as well as education, to anyone's life, and believes that learning and sharing music can be an integral part of faith practice and community.
Skype guitar lessons offer the best of both worlds for aspiring musicians. Skype lessons allow the student to learn from a first-class teacher, while remaining in the comfort of their own home. By cutting down on travel time and expenses, students can spend more time practicing and spend less money on costs not related to lessons. For Christian students, Kimura's Skype lessons are particularly appealing because it can be challenging to find a local guitar instructor who shares in their faith and recognizes the importance of music to spirituality.
Dyce Kimura considers his skill as guitar teacher to be a great blessing, and he offers up this skill through lessons in a variety of different formats. He has the ability to offer in-person private lessons in Fort Lauderdale, Florida, as well as online video guitar lessons and Skype lessons. The flexibility allows him to reach a wide variety of clients regardless of location. His Skype lessons come in a number of different packages, known as the Bronze Package, Silver Package, Gold Package, and Platinum Package. They range from one lesson to 15, and standard lessons last 50 minutes each.
For the Skype guitar lessons, students of Dyce Kimura only need a guitar, high-speed internet connection, computer with webcam, microphone, and Skype software. Most laptops now come with integrated webcams and microphones, and the software can be downloaded for free.
Fort Lauderdale guitar teacher Dyce Kimura is comfortable with teaching a variety of different levels and age groups. He has experience teaching children as young as five years old and regularly teaches teenagers and adults of all ages. He can teach first-time beginners and seasoned veterans alike. "I love teaching all aspects of guitar," says Kimura. "There are different challenges to all learning levels, and this keeps me inspired. Particularly when I can share in faith community with my students, offering guitar lessons is very rewarding for me, not just for the student."
Kimura uses the first lesson to assess the student's talents and abilities. For first-time players he will start with learning their goals and desires. For experienced guitarists, Kimura will assess their talent level and figure out where to help. He teaches on a variety of different subjects, including basic chords, chord progressions, reading tabs, reading sheet music, playing scales, writing music, and more. Each lesson is able to be customized to match the desires of the student.
To take advantage of Dyce Kimura's offer, sign up for lessons and use the promotional code JOHN 3:16. Christian students using this code will receive 15% off their first Skype lesson.
Dyce Kimura has more than 28 years of experience playing the guitar. He has a passion for teaching and enjoys motivating others to become their best. Kimura teaches lessons for electric guitar, acoustic guitar, bass guitar, and other instruments. He is based out of Fort Lauderdale, Florida and enjoys songwriting and playing the blues.
Contact: 786-457-3687