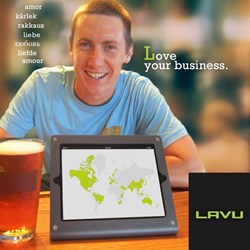 "... to give everyone the ability to love what they do, to love their business... to Lavu" - Travis Kellerman, SVP Operations with Lavu iPad POS
Albuquerque, NM (PRWEB) January 16, 2014
New integrations announced today by restaurant point of sale makers Lavu Inc., based in the United States, will allow their popular iPad POS to be used effectively in Europe, Australia, and the Americas. Regionalized solutions will further enhance the full-featured product and benefit business owners with fully integrated payment hardware, improved marketing opportunities, and convenient access to critical financial information.
Lavu currently provides services to customers in over 80 countries. That list is growing fast due to strategic development and partnerships which cater specifically to international clientele. Lavu's iPad point of sale system delivers payment, business management, and marketing solutions to those in the restaurant, nightclub, and quick serve industries. Joining the many features already available for Lavu's international customers, newly announced iPad POS integrations continue to remove barriers and increase efficiency.
Lavu provides support for multiple major currencies, 22 prefilled language translation packs, and the option to format the entire POS system to any other language. Lavu can also handle the many different tax setups to meet various countries' requirements, such as varied tax rates on food versus alcohol, and other options involved when taxes are applied to an order. "No matter the tax structure, dialect, custom, anyone can make this system their own. We want to give everyone the ability to love what they do, to love their business... to Lavu." said Travis Kellerman, Senior VP of Operations at Lavu Inc.
Partners in global payment solutions include iZettle, Tyro Payments, and Marketing Ideas and Technology (MIT). These systems reduce the time spent by business owners and managers when processing financial information, and remove the need for work to be duplicated.
Social payments company iZettle was founded in 2011 and has quickly risen to prominence in the European payments space. The union between Lavu POS and iZettle incorporates Chip and PIN processing hardware and EMV smart card technology. This complete integration results in streamlined workflow and faster transactions, important to the restaurant and hospitality industries.
Lavu POS with iZettle offers Chip and PIN service to European countries such as Sweden, Norway, Denmark, Finland, Germany, Spain, and the United Kingdom as well as select countries in the Americas.
Tyro provides processing for credit, debit, and gift cards for clients in Australia. Service with Tyro coupled with broadband technology results in quick approval times and higher, encrypted security, and puts an end to dial-up lines on third party machines.
Tyro is Australia's first and only fully independent Merchant Processor, an Australian financial institution specializing in merchant credit, debit, and electronic funds transfer at point of sale (EFTPOS) acquiring. Tyro Dynamic Currency Conversion (DCC) supports up to 135 international currencies, available on all terminals at no cost. "Tyro was the first banking institution to develop an integrated payment system for tablet, cloud based point of sale systems such as POS Lavu. We are very pleased to be working with world leading POS Lavu to provide such payment systems for their customers in Australia," said Andrew Rothwell, CTO and co-founder of Tyro Payments.
Marketing Ideas and Technology (MIT) has a lengthy background in electronic payments since 2000, when they were established. MIT brings merchant services, information analysis, and other benefits to customers in Mexico. With MIT, users of Lavu iPad point of sale can receive credit and debit card payments, along with real-time payment and sales channel information.
Other Lavu integrations include consumer-directed technologies such as the The Exchange in the United Kingdom - a real-time stock market for bar drink prices, automatically adjusting the price of drinks according to demand. Spectu is a customer-facing ordering application for quick and easy ordering by diners. With full integrations to the Lavu iPad POS system, these integrations afford businesses a seamless, self-run engagement with their customers that increases sales, efficiency, and customer experience.
International Lavu support is available for Lavu customers 24-hours per day, 365 days per year.
About Lavu Inc.
Founded in Albuquerque, NM, and operating worldwide, Lavu Inc. was formed as a solution to common point of sale problems and restaurant industry issues. Lavu Inc. offers POS Lavu as a full-featured point of sale software solution at a fair price. Through cloud computing, wireless mobility, and multi-touch devices, Lavu iPad POS redefines the entire approach to restaurant business management.