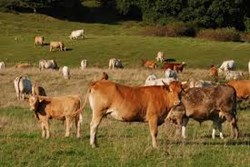 Animal Husbandry @ EurekaMag.com
Mannheim, Germany (PRWEB) January 17, 2014
EurekaMag.com has newly published 6,939 references and abstracts on animal husbandry. The site's Research Category extensively covers this science of breeding and caring for farm animals. The Life, Earth & Health Sciences Research Section 16 provides many scientific studies on the branch of agriculture covering the care and breeding of domestic animals such as cattle, hogs, sheep, and horses. It is the management and care of farm animals by humans for profit, in which genetic qualities and behavior of animals are further developed. Husbandry refers to the practice of selectively breeding and raising livestock to promote desirable traits in animals for agricultural purposes.
The Life, Earth & Health Sciences Research Chapter 15046 presents a selection of the current total of 4,018 references and abstracts on animal husbandry including articles on animal husbandry and fisheries progress in Uttar Pradesh during the post-independence period, animal husbandry advances contributing to major livestock development in Vietnam, animal husbandry and sanitary bases for the present legislation on growth promoting supplements, animal husbandry and veterinary medicine in Berlin during the 19th and 20th centuries, animal husbandry between the requirements issued by the protection of animals and protection of environments and the limited possibilities of production, animal husbandry as a priority objective of economic development, animal husbandry in Comtat Venaissin at the beginning of the fifteenth century, animal husbandry intensification and the problem of environment protection, and animal husbandry of lake and shore dwellers of the Varna Lake during the end of the Aenolithic and beginning of the Bronze ages in Bulgaria.
EurekaMag.com was launched in 1998 and has become a comprehensive publisher of references in biology, in the applied life sciences agriculture, horticulture and forestry, in the earth sciences, in the environmental sciences, and in the health sciences. After its latest update stemming largely from the agricultural sciences, it contains a total of 38,897,688 bibliographic references from as early as the beginning of the 18th century (1703). 58% of these entries feature a summary of their scientific content. Besides its new streamlined design and a much improved site search, the site features a mobile version for smartphones and frequently updated accounts at Twitter and Facebook.