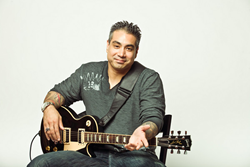 The goal is to make every student a musician.
Fort Lauderdale, FL (PRWEB) February 25, 2014
Fort Lauderdale guitar teacher Dyce Kimura knows learning to play guitar is a popular New Year's resolution, and he is offering a new deal to incentivize people to follow through with their goal. For a limited time, students can receive 25% off their first Skype lesson with mention of the deal, which means now is the perfect time to learn to play guitar.
Dyce Kimura makes learning easy by offering Skype guitar lessons to his students. Skype lessons are a popular choice because of their convenience, flexibility, and comfort level. Students can learn from an excellent teacher, while playing in the confines of their own living room. Kimura tells students they only need a few things to get started. Students must have a guitar, computer with webcam, microphone, high-speed internet, and Skype software. These days, most any standard laptop comes with these capabilities.
Miami guitar teacher Dyce Kimura offers his Skype lessons in different packages. These include the Bronze, Silver, Gold, and Platinum packages. The number of lessons range from one to 15 and are conducted in 50-minute blocks of time. The first lesson, to which the discount offer applies, gives Kimura the ability to evaluate the student and start teaching.
Dyce Kimura has experience teaching a variety of age groups and talent levels. He can teach anyone from five years old and up, including first-time aspiring guitarists and experienced musicians. "I love teaching all levels and areas of guitar," says Kimura. "Sharing the joy of music and a student's success is my passion. It never feels like a job." Lesson topics include chords, chord progressions, scales, reading sheet music, reading tabs, learning specific songs and riffs, writing music, and even ear training. Kimura works to design custom lesson plans that focus on the goals, desires, and talent level of his students. He has years of experience with nearly every genre and music type. He especially enjoys playing the blues, and points to Eric Clapton, Jimi Hendrix, and Stevie Ray Vaughan as his influences.
In addition to Skype guitar lessons, Kimura also offers in-person private lessons and video lessons. He believes in offering flexible options for everyone wishing to learn the guitar.
To take advantage of this 25% offer, sign up for lessons and mention this offer. The offer is good for the first Skype lesson. Information on pricing and registration can be found on Kimura's website.
Dyce Kimura is an experienced musician of more than 28 years. He is a teacher, musician, and motivator. He offers lessons in bass guitar, electric guitar, acoustic guitar, and other instruments. His physical lessons are based out of Fort Lauderdale, Florida, but he can teach all over the world with Skype and video lessons.
Contact: 786-457-3687