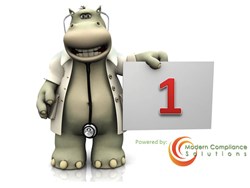 "Using HIPAA One® lowered my anxiety regarding HIPAA Security requirements. As we go through the process, we now understand what we need to do without having a background in security or audit." - Clinic Manager in Salt Lake City, UT.
Salt Lake City, UT (PRWEB) January 21, 2014
HIPAA One announced today the release of HIPAA One 2.0, the simple, automated and affordable alternative to complex and time-consuming HIPAA Security Risk Analysis tools and spreadsheets on the market today – by people with or without a security background. To address anxiety in dealing with HIPAA requirements, HIPAA One 2.0 facilitates a "Turbo-Tax"-like guided step-by-step process making the process easier and basic. Some small clinics are reporting completing their HIPAA Security Risk Analysis and Assessment in as little as one day using HIPAA One. Hospitals are reporting success in measuring compliance on a per-location basis for clinics and affiliates.
Steven Marco, President of HIPAA One states, "We have had excellent adoption of our HIPAA One Security Risk Analysis solution in 2013. And are reinvesting our successes into features for our users, the healthcare industry to offer peace of mind they are doing the right thing when it comes to securing their patient's identities. We guarantee compliance with Meaningful Use to protect CEHRT data requirements when using HIPAA One."
New features of HIPAA One 2.0 include:
1. Executive dashboards for remediation tracking progress.
2. Added subjective "Risk Remediated" check-box for remediation plan updates.
3. Parent-Child relationship for regional and affiliated Clinic and Hospital organizations.
4. Import/convert historical HIPAA One® Risk Analysis data for simple Risk Analysis updates.
5. ePHI System Administrator role added to better handle multi-ePHI system environments.
6. Can marry ePHI System to existing or new location – avoiding redundant questions.
7. Improved workflow for cloud or hosted systems.
8. Compliant with Meaningful Use Stage 2 (CM 7/9 for EH/EP)
9. Added ASTM_E2147-01, and 45 CFR 170.314(d)(4), (d)(2), (d)(3), (d)(7), (d)(1), (d)(5), (d)(6), (d)(8), and (d)(9).
10. Automated Shopping cart functionality for customized product quotes.
For more information about HIPAA One, visit http://www.hipaaone.com.