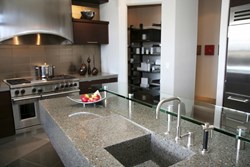 If you choose a company to clean your fridge freezer make sure they are insured and ask for references.
Hither Green, London (PRWEB) January 22, 2014
Matthew established London based professional oven cleaning company, Hither Green] Oven Clean in December 2011.
The London oven cleaners are based in Hither Green, South East London and as well as cleaning ovens they also clean fridges and freezers for domestic and commercial customers.
When Mr. Hill was asked "What separates your business from the competition?" The owner of the South London oven cleaning company answered, "Professionalism and superb customer service. Unlike some other oven cleaners in London, Hither Green are fully insured and trained in the most up to date cleaning techniques."
"At Hither Green Oven Clean we use cleaning products which aren't caustic (or toxic) and are much gentler on kitchen appliances. However the chemicals we favour still have the same cleaning power of traditional cleaning products," Matthew added.
The London oven cleaning specialists work mainly for domestic customers.
Hither Green clean appliances for commercial customers too, some of which include The London Ambulance Service, local schools, private and commercial landlords, estate agents and care homes.
The London based professional oven cleaners cover all areas within the M25 motorway network.
Matthew's tips are:
1. Firstly check the manufacturer's instructions.
Take careful note of any advice that is provided about products that should not be used when cleaning the appliance.
2. Be careful
Remember that a fridge or freezer is an electrical appliance and should be treated accordingly.
3. Protect the area before starting to clean the fridge freezer.
"I start by laying down a tarpaulin covering the whole of the working area. Don't just cover the immediate space around the base of the fridge freezer. I cover the whole of the kitchen floor as you are likely to make regular trips to the sink. I place absorbent pads in front of the fridge freezer; these can be bought from pet stores and are more commonly used when training puppies," advises the professional oven cleaner.
4. Products required.
"There are a few items which I would regard as essential 'bits of kit'. Which include a minimum of three large micro fibre cloths, a non-scratch cleaning sponge pad, two buckets, washing up liquid (or all-purpose cleaner), glass cleaner, a spray cleaner such as Mr. Muscle Kitchen Cleaner, a cream cleaner like Cif and an old tooth brush," recommends Matthew.
"You will also need a steam cleaner (or plenty of time) if your freezer needs defrosting prior to cleaning," he added.
5. Start with the fridge.
Remove all the contents; this is a great opportunity to get rid of that old jar of cranberry sauce that has been lingering at the back of the fridge since last Christmas.
It is possible to remove all shelves and drawers from most fridges, however to be absolutely certain of where to return them to take a photo (for reference) before removal.
This will make things much easier when it is time to return the drawers and shelves.
It is now time to start cleaning.
Spray the empty fridge cavity with the kitchen cleaner and follow the instructions on how long to leave it, around five minutes should be sufficient.
Use the micro fibre cloth to make sure that the solution is in contact with all areas.
Then rinse, clean and dry with another cloth or paper towel.
Next fill one bucket with warm soapy water and the other with cold water.
Use the soapy water (and cloth) to clean each shelf; use the non-scratch pad for stubborn marks and particularly dirty bits.
Rinse with the cold water and then dry with a cloth.
Buff to a sparkling finish with glass cleaner.
6. Drawers and Shelves.
Repeat the process with all the shelves and drawers.
7. Check the seals.
Before re-assembling the fridge make sure that the door seal and hidden corners are clean too.
Take the old tooth brush and apply the cream cleaner to it (just like adding toothpaste).
Use the brush to scrub around the door seal until all dirt is dislodged and can be easily wiped away with the damp cloth.
8. Return the shelves and food.
Once this stage has been completed return the shelves and drawers.
The fridge interior will now be clean and sparkling.
If required return the food which was removed earlier.
9. Freezer cleaning
Repeat the exact same process when cleaning the freezer section.
"The biggest problem people encounter when cleaning their freezer is they have to contend with a buildup of frost and ice which must be removed before cleaning can take place. I use a steam cleaner to rapidly melt this. It really makes things easier as you do not need to worry too much about keeping the removed food cold as the whole cleaning process should be completed within 30 minutes. There are sprays that you can buy to help with defrosting but these can prove to be expensive," advises Mr. Hill.
He added "Once defrosted your freezer will not be difficult to clean if you follow the method you used to clean your fridge."
10. The Perfect Finish
The handles of fridge freezers are often the dirtiest parts of the appliance.
Use the toothbrush again to loosen any stubborn dirt, follow this with a good clean with a micro fibre before rinsing with a fresh cloth.
Use either glass cleaner or a stainless steel cleaner to polish the outside of the appliance before returning any fridge magnets.
"Cleaning this way is not a difficult job but it is time consuming. Many oven cleaning companies offer a fridge freezer cleaning service. This is a great option for people who are busy but still want their home cleaned to a really high standard. If you choose a company to clean your fridge freezer make sure they are insured and ask for references," ends Matthew.