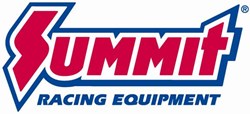 Tallmadge, OH (PRWEB) January 18, 2014
Summit Racing Equipment will be the official series title sponsor for the Summit Racing Equipment American Modified Series in 2014. Summit Racing began its successful partnership with the sanctioning body in 2013.
"The American Modified Series represents the best in dirt track racing in the country, and the kind of racers that are the core of Summit Racing's customer base," explained Jim Greenleaf, Summit Racing Motorsports and Events Manager. "We are very proud to sponsor this series for these racers and give them a chance to shine."
The Summit Racing Equipment American Modified Series will present UMP DIRTcar Modified- sanctioned dirt track racing at venues throughout Illinois, Indiana, Kentucky, Ohio, and Tennessee. When season ends in October, the series will have paid out over $200,000 in both nightly track Championship purses. The UMP DIRTcar organization will have its officials at all events to handle technical inspection of the race cars. Drivers can also earn points toward the UMP DIRTcar Modified national title.
"The 2014 season is going to be awesome and we cannot thank Summit Racing Equipment enough for its support of our series," said American Modified Series race director Shane Mugavin. "Summit Racing's sponsorship will allow us to present the best in UMP DIRTcar Modified action in the area at some of the best racing venues in our part of the country."
For more information on the 2014 Summit Racing Equipment American Modified Series, visit http://www.americanmodifiedseries.com.
2014 SUMMIT RACING EQUIPMENT AMERICAN MODIFIED SERIES SCHEDULE
March
1: Tuckasee Toilet Bowl Classic, Clarksville Speedway, Clarksville, TN
29: Spring Nationals, Smoky Mountain Speedway, Maryville, TN
April
11: Moler Raceway Park, Williamsburg, OH
25: J.B. Robinson Memorial, Bloomington Speedway, Bloomington, IN
26: Brownstown Speedway, Brownstown, IN
May
23: Farmer City Raceway, Farmer City, IL
24: Gary Cook, Jr. Memorial, Fairbury American Legion Speedway, Fairbury, IL
25: Kim Henderson Memorial, Vermillion County Speedway, Danville, IL
June
20: Moler Raceway Park, Williamsburg, OH
21: Florence Speedway, Union, KY
July
12: Western Kentucky Speedway, Nebo, KY
26: Hope for Harlie Benefit Race, Cedar Ridge Speedway, Morgantown, KY
August
29: Farmer City Raceway, Farmer City, IL
30: Casey's Modified Nationals, Fairbury American Legion Speedway, Fairbury, IL
31: Modified Fall Nationals, Spoon River Speedway, Canton, IL
September
13: Western Kentucky Speedway, Nebo, KY
27: Cedar Ridge Speedway, Morgantown, KY
October
25: American Modified Series Championship, Florence Speedway, Union, KY
Summit Racing Equipment
http://www.SummitRacing.com
1-800-230-3030