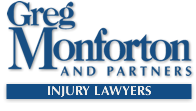 Always wear a helmet as it is required by law and could help to prevent head injuries in the event of an accident.
WINDSOR, ONTARIO (PRWEB) January 19, 2014
Greg Monforton and Partners reminds riders of important safety measures to take while snowmobiling as International Snowmobile Safety Week begins today. The purpose of International Snowmobile Safety week is to encourage safe snowmobiling practices and demonstrate how operating a snowmobile safely can prevent accidents.
Snowmobiling is enjoyed by more than 4 million people in the United States and Canada, however, according to the Ontario Ministry of Transportation there were more than 80 snowmobile collisions in the province in 2009. Of these snowmobile accidents, four were fatal.
Founding Partner Greg Monforton said, "Always wear a helmet as it is required by law and could help to prevent head injuries in the event of an accident."
Additionally, the firm offers the following safety suggestions for operating a snowmobile in Ontario:
Obey speed limits and other trail signs;
Avoid traveling alone;
Make sure someone else knows where you are going, how long you will be gone and a brief description of your snowmobile;
Never drive while under the influence of drugs and/or alcohol;
Know and use all appropriate hand signals for stopping, turning and slowing down;
And consider carrying a survival kit that includes food, a small mechanical kit, a first aid kit, and any other items you may need
Greg Monforton and Partners advises anyone who has been injured in a snowmobile accident to seek medical assistance right away and obtain advice from legal counsel to learn about your legal rights.
Anyone over the age of 16 who has a valid Ontario driver's licence, motorized snow vehicle operator's license (MSVOL) or a licence from another jurisdiction is allowed to drive a snowmobile on trails and on roadways, where legally permitted.
About Greg Monforton & Partners
Greg Monforton & Partners is comprised of talented and experienced lawyers passionate about helping injury and accident victims who have been harmed by another person or entity. The personal injury firm handles all types of accident and injury claims arising from auto accidents, dangerous drug litigation, class action suits, pharmaceutical class actions, disability insurance disputes, and all other incidents involving injury or loss of life. For a free and confidential case evaluation, contact Greg Monforton & Partners by visiting gregmonforton.com or by calling 1-800-663-1145.