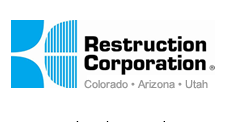 Denver, CO (PRWEB) January 20, 2014
Local structural repair contractor, Restruction Corporation has played a vital role in the effort to restore the eighteen story Huntington House Condominiums building by placing new steel angles at every level to support the brick. Expansion joints were installed at every other level to allow movement due to the thermal conditions. Poorly developed vertical rebar was restrained, to tie the brick to the building. Large portions of existing rebar and angle needed to be replaced due to corrosion.
According to Restruction Corp officials, there were three major issues with the building that was causing brick façade failure. The brick was poorly supported and had been failing under its own weight, the brick was incorrectly tied to the concrete frame, and thermal expansion and contraction was causing severe stresses within the bricks, therefore requiring structural repair. Further stating, the problem was so severe that there were some instances of bricks falling off the building.
Restruction Corporation operations and project superintendents have been with the company for over 98 years and specialize in structural strengthening, concrete patching, structural concrete and dam repair. The company consists of a collection of construction professionals with a wide and deep set of experience in conceptualizing, estimating, bidding, managing and constructing structural repair and strengthening projects. Their personnel regularly participate in National Industry Associations and they have won numerous awards.
Engineering management personnel have a combined 50 plus years of managing structural repair and strengthening projects. Their engineering management team have experience in repair, structural repair and strengthening concrete dam structures, important bridges, airport pavements, stabilizing foundations, power plant and other civil engineering structures, parking garages, and historical buildings. Additionally, they have experience rehabilitating and waterproofing commercial building plazas, and high-rise façade.
With locations and servicing areas in Colorado, Arizona and Utah, for more information visit their website at http://www.restruction.com or call (800) 680-8244.