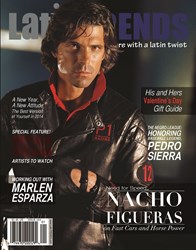 New York, NY (PRWEB) February 21, 2014
LatinTRENDS Magazine will go to new heights in 2014. International polo superstar, Ignacio "Nacho" Figueras is on the cover of the first issue of the year. This exclusive and inspiring interview with Nacho, the brand ambassador for Ralph Lauren's World of Polo fragrances, will expose the life of this international model, professional polo player, husband and father...and the face of the globally recognized brand "Polo".
While Nacho Figueras emboldens people to take life by the horns and live it up, confidence and positivity is where it all begins. This month's issue also offer's feng shui with sabor Latino for the home. Six ways to stick to a New Year's resolution and a very serious message about the importance of embracing your inner kid.
This January Febraury Issue of LatinTRENDS also has a special feature on the rising stars of Musica Urbana. Farruko, Angel y Khriz, Natti, and Vena. You'll find out what drives these artists, challenges they overcame and and how they got their shot in the spotlight.
Download the LatinTRENDS app on all iPhones, iPads and Androids via Pocketmags.com
For more information, please contact Maria Luna at (212) 852-6164 or via email at
mluna(at)latintrends(dot)com.