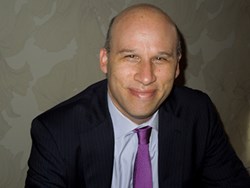 Public officials, academics, and educators everywhere are struggling with the question of how to improve the quality of our schools, and I believe Bank Street is uniquely positioned to provide answers.
New York, NY (PRWEB) January 21, 2014
The Board of Trustees of Bank Street College of Education today announced the selection of Shael Polakow-Suransky, currently the Chief Academic Officer and Senior Deputy Chancellor at the New York City Department of Education, as its seventh President. He will succeed Elizabeth Dickey, who is retiring, on July 1, 2014. In making its unanimous selection, the Board of Trustees cited Mr. Suransky's deep-rooted commitment to educational equity and social justice. Mr. Suransky, who studied under prominent educator Theodore Sizer and has spent his career in City schools and at the Department of Education, will be the first President who is also an alumnus.
Anthony Asnes, Chair of Bank Street's Board of Trustees, said: "As Bank Street heads toward its centennial, Shael Polakow-Suransky is the ideal person to guide us into its next century of leadership and service. His superb experience as a classroom teacher, school leader, and innovative administrator and shared philosophy of teaching and learning will help Bank Street to accomplish its distinctive mission serving educators, schools, children, and families."
"I have known Shael for years, and he's a true educator whose commitment to the city's students over the last two decades has been remarkable," said New York City Mayor Bill de Blasio. "Fortunately, Shael isn't going far, and his expertise will be put to work serving the young people of this city at Bank Street. We look forward to working together for many years to come."
The New York City Department of Education is interested in exploring new partnerships with Bank Street on teacher training initiatives for current and future pre-kindergarten teachers, helping the Mayor and Chancellor advance their agenda of providing universal pre-kindergarten across the City.
"Public officials, academics, and educators everywhere are struggling with the question of how to improve the quality of our schools, and I believe Bank Street is uniquely positioned to provide answers," said President-elect Shael Polakow-Suransky. "I'm inspired by the faculty's deep expertise and the College's long history as a leader in progressive education. With this proud background, the College can play a pivotal role in shaping the education policy agenda in the City and across the country in the coming years."
"Bank Street is a tremendous institution, and Shael is a perfect match," said New York City Schools Chancellor Carmen Fariña. "Teachers, principals, and I deeply value Shael's insights and wisdom, and the Department's longstanding relationship with Bank Street will continue to thrive under Shael's leadership, particularly as we work to further our progressive agenda through greater access to early childhood education."
Yolanda Ferrell-Brown, Chair-elect of the Bank Street Board and Chair of the Presidential Search Committee, said: "The members of the search committee were impressed by the depth of Shael's commitment to the principles that Bank Street holds dear. He offers innovative ideas about how best Bank Street can help to meet the changing educational needs of children, and especially children in low-income communities with limited resources. The committee's recommendation was enthusiastic."
As a native South African born to parents involved in the anti-Apartheid movement, Suransky learned about social justice early. He grew up in Michigan and attended Brown University, focusing on education and urban studies and receiving his BA in 1994. His senior thesis under Theodore Sizer was a comparative analysis of a South African school and a community organizing group in Rhode Island in order to investigate the intersection between education and political organizing.
Suransky, 42, began his career as a math and social studies teacher at Crossroads Middle School in Harlem, where Bank Street faculty helped create one of the first successful special education inclusion programs in the City. Later, with a colleague who attended Bank Street, Suransky helped found a high school focused on integrating social justice and the arts into the academic curriculum. When he decided to become an assistant principal at the school, he enrolled in Bank Street's Principals Institute, graduating in 2000 with a master's degree in educational leadership.
In 2002, he founded and served as the principal at Bronx International High School, a small, innovative school that consistently beat the odds serving a population of recent immigrant children who were all learning English for the first time. He joined the central office of the New York City Department of education in 2004 as Deputy CEO for the Office of New Schools; later he became Deputy Chancellor for Performance and Accountability. In 2011, he was appointed to his current position as Chief Academic Officer and Senior Deputy Chancellor, where he oversees the Division of Academics, Performance, and Support, which has nearly 1,300 employees and an annual budget of $400 million. Throughout his tenure, Shael has focused on building instructional capacity, improving school quality, developing school leaders, and opening new schools.
Bank Street College of Education has been described as a small college with a big voice in education, one heard and respected worldwide for its practice and advocacy about the progressive education of children. Its structure is unique in American education: a free-standing graduate school of education, partnered with an onsite progressive preK-8th grade independent day school, a Family Center serving children from six months of age, a Head Start program in lower Manhattan, and a drop-out prevention, college access program for secondary school students from New York public and parochial schools. It is located at 610 West 112th St in New York City and was founded in 1916 by visionary educator Lucy Sprague Mitchell as The Bureau of Educational Experiments, an experimental nursery school staffed by teachers, psychologists, and researchers. Bank Street has grown over the years to become an internationally-recognized leader in early childhood education, a pioneer in improving the quality of classroom education and teacher preparation, and a national advocate for children and families. It has had a unique impact on the New York City public schools, with over sixty years of onsite collaboration with those schools, and also a national impact on American education, through its key roles in the design of such innovative programs as Head Start and Follow Through, as well as its work in public school systems in cities across the country.