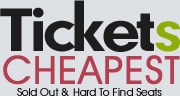 For low prices Tickets-Cheapest.com from Financial Firebird Corporation proves it beats its competitors for the exact same seats to provide the prime place to find tickets for premium seats and sold out events including cheap Super Bowl tickets.
New York, NY (PRWEB) January 20, 2014
In order to introduce Tickets-Cheapest.com to new customers, an extra discount code has been offered for the NFL championship to insure they offer the cheapest Super Bowl tickets. Even without an additional savings code, Tickets-Cheapest provides the best prices. By using the code CHEAPESTSUPERBOWL those who buy seats can save $100 or more on each pair of tickets through Wednesday.
Good seats at popular events like concerts, theater and pro sports games sell out fast. Over and over, Tickets-Cheapest.com conducts price comparison studies to be sure it deserves the cheapest tickets name. It should come as no surprise then, that Tickets-Cheapest.com offers the cheapest Super Bowl tickets when comparing online resale sites. When fans want to attend a show where they may no longer buy the tickets they want from the box office, they often turn to websites in the resale market where tickets remain available from others who need to sell their tickets or from brokers or ticket agents. The largest and most commonly know name in the ticket resale market would be Stubhub. So who really offers the best seats and prices? Today's examination revolves around Super Bowl tickets for the absolute cheapest tickets, and instances where the exact same ticket may be bought from each of these two sites.
Start with finding who sells the best cheap Super Bowl tickets in terms of absolute price. This comparison really depends on inventory. Most recent surveys indicate Tickets-Cheapest.com beats StubHub, but each event may vary. In the case of the Super Bowl, these represent the lowest prices:
Tickets-Cheapest.com Section 325 Row 26 Price with Fees $2320
Stubhub Exact Seats Unknown - Upper Endzone Price with Fees $2550
On top of the better prices at Tickets-Cheapest.com fans can use the Super Bowl discount code to save another $58 per ticket early this week.
Next let's explore a case with the exact same seats.
Tickets-Cheapest.com Section 342 Row 26 Price with Fees $2933
Stubhub 342 Row 26 Price with Fees $3155
With the temporary savings coupon, reducing another $73 per ticket off, fans could save almost $300 per person by using Tickets-Cheapest.com rather than Stubhub, and end up in the exact same seats.
Previous ticket cost reviews yielded the same results, in fact, the prices at Tickets-Cheapest.com emerged lower than 25 out of 25 competitors when looking at the exact same tickets. Those interested in other events like concerts, theater, NFL, NHL, NBA or MLB tickets will find Tickets-Cheapest works out as the best deal most of the time.
Tickets-Cheapest.com provides a site where people usually find the best prices for sold out tickets and premium seats. Sometimes inventory varies and it's best to check multiple sites, but Tickets-Cheapest should always represent a site to review while looking prime tickets, like floor seats for concerts. Even where ticket inventory offers less in common, Tickets-Cheapest.com can provide the lowest cost options, with Super Bowl tickets serving as a prime example. The next few times the need for event tickets to a sold out venue comes up, do a personal price comparison, findings will prove Tickets-Cheapest.com comes out cheaper than Stubhub most every time too. If the specific tickets in question come out cheaper at Stubhub by all means buy those particular ones there, but try Tickets-Cheapest.com again on the next round. Why not sit in the exact same seats for less and use the extra money for a tasty meal first?
About Financial Firebird and Tickets Cheapest
The site to buy Cheap Tickets online is affiliated with the Financial Firebird Corporation Travel Group. Financial Firebird Corporation, established in 2000 and a proud BBB member, provides unbiased consumer information particularly involving personal unsecured debt or mortgages, software and marketing services. These sites for consumers to buy tickets online operate in the resale market and maintain no relationship with the venues or performers. The resale ticket market allows consumers access to popular events once the box office has sold out or to buy premium seats when the venue no longer offers any inventory. Within the group of these secondary market ticket services the Financial Firebird owned ticket sites offer lower prices than competitors. Find the site at Tickets-Cheapest.com.