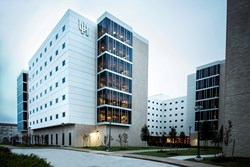 "We're especially proud of how well the design turned out–both inside and out–on a tight budget." –Sean Studzinski, principal
Dallas (PRWEB) February 12, 2014
Cougar Village II, a new living-learning student housing community designed by KSQ Architects on the University of Houston campus recently opened–featuring a contemporary design and affordable budget for the university.
KSQ, in association with Brave/Architecture of Houston, completed the freshman housing project within a tight timeframe and a budget set three years prior to construction. At under $45,000 per student bed, Cougar Village II is an example of cost-effective, high-quality design work. Austin Commercial of Houston was the contractor on the design-build project.
In addition to more than 1,100 student beds, the project features Student Housing & Residential Life main offices, classroom spaces, faculty-in-residence apartments, student lounges and study rooms that build a bridge between residential and academic life. Natural light is brought in through striking glass-encased lounges that provide a lantern effect at night.
"This project creates a strong identity for the university's southern edge and ties in seamlessly with Cougar Village I, the first phase of freshman housing on this site," said Sean Studzinski, the KSQ principal-in-charge on the project. "We're especially proud of how well the design turned out–both inside and out–on a tight budget."
"We're proud of the building and how design decisions were made to foster student-to-student interaction and student success," said Don Yackley, executive director of Student Housing & Residential Life for the University of Houston. Cougar Village II is also home to the university's FYRE (Freshman Year Residential Experience) program.
ABOUT KSQ ARCHITECTS
With offices in offices in Colorado, New York, Oklahoma, and Texas, KSQ Architects is a full-service architectural firm providing programming, planning, architectural and interior design services. The firm specializes in collegiate life, K-12 and multi-family housing facilities throughout the United States. A hands-on, environmentally sensitive approach is fundamental to each KSQ project, and ensures a rare level of personalized attention and sustainable methodology. KSQ has completed projects nationwide on more than 50 campuses totaling $1 billion in construction. For more information, contact Monica Roberts, Communications Manager, 918-592-0622 or mroberts(at)ksqarchitects(dot)com.