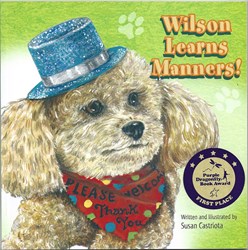 Children gain a unique personal insight into the author who brought the pages to life.
Pittsburgh, PA (PRWEB) January 23, 2014
Castriota is author and illustrator of five children's books in the popular series she created about her adopted dog, Wilson. Her passion for drawing combined with her love for dogs was the inspiration for "Wilson Gets Adopted!", the first book in the series WILSON'S WONDROUS TAILS.
Students enjoy the sweet, charming illustrations of Wilson, Bella and their furry friends while listening to the author bring the books to life. The Wilson stories are told from Wilson's perspective.
As a visiting author, Castriota discusses how Wilson came into her life, and imparts lessons to the students about animal shelters, pet care and pet adoption. For the 2014 Author Day kick off, both schools chose "Wilson Learns Manners!". Castriota stressed the importance of good manners for Wilson the dog as well as for youngsters. "Wilson Learns Manners!" encourages children to be more enthusiastic about using good manners.
Prior to an Author Day visit, Castriota sends a donation of the book series to the school library to help prepare the students for her visit. By talking about the books before the author visit, the students are encouraged to participate in the Q and A session that takes place after Castriota reads the book.
At the end of the program, Castriota mesmerizes the students by demonstrating how she draws some of the characters from the book. As an award winning artist, Castriota illustrated hundreds of landmarks and famous places for the past three decades. In 2008, she was chosen to design an ornament for the White House Christmas Tree. As part of the program, the students also get to enjoy Wilson's YouTube video about the US Presidents.
For the students, an Author Day can foster a greater love of reading and a deeper understanding of the creative process. Castriota says, "Children gain a unique personal insight into the author who brought the pages to life."
Castriota has been invited to the White House, the Smithsonian National Museum of History, and has appeared on many TV and radio shows, including the Emmy Award winning THE DOCTORS show, FOX NEWS in NYC, NPR Radio, DISNEY Radio and YAHOO home page.
To schedule an Author Day with Susan Castriota and Wilson, visit Wilsongetsadopted.com or email Castriota at wilsonsbook(at)aol(dot)com.