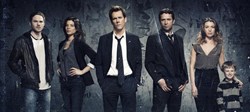 (PRWEB) January 23, 2014
Season 2 of Fox's popular series "The Following" premiered on Sunday with high ratings and some twists that have a lot of people talking, according to an ExploreTalent.com news.
"The Following" is about former FBI special agent Ryan Hardy (Kevin Bacon – "Mystic River," "Footloose"). Hardy is brought out of retirement when serial killer Joe Carroll (James Purefoy – "John Carter," "A Knight's Tale") escapes from prison and, along with his like-minded cult of protégés, goes on a murderous spree. Carroll has a grand plan to continue his crimes and to prey on Hardy as well as Hardy's career and family.
This season the cast is joined by Sam Underwood ("Dexter," "Homeland") as Luke, a member of the killer cult. A blindsiding twist came in the episode when (spoiler alert!) Luke turns out to be not one, but two homicidal twins working together to bait Carroll out of concealment. Underwood gave an interview on the subject here. Underwood provides some insight into his experiences working on the series, his character(s), and where future episodes may take us. (It also may be a good read for those looking for TV series acting audition tips).
"The Following" is gathering a lot of attention, and a lot of viewers, among the television audience. It has brought some fresh and new ideas to the serial killer/manhunt/thriller premise and the Season 2 premiere certainly did not disappoint. As the show progresses, this will definitely be one to pay attention to.
Since its debut in 2003, ExploreTalent has become the Internet's largest resource for actors, models, musicians, dancers, and production crew. Explore Talent's proprietary cast match technology is the most advanced entertainment-based technology of its kind. It matches a talent's attributes against tens of thousands of job postings every day. Explore Talent's unique technology sends casting email alerts and posts auditions and jobs directly on talents' profiles, saving members hours of time from tedious searching. Explore Talent has proven to be the best possible destination for talent to find modeling and acting auditions with well over 7.9 million members and over 60,000 auditions, castings, and production jobs listed - 40 times more postings and open casting calls than any other site.
The site's popularity is based on the fact that there are many ways for talents to network, make friends and connect with other industry players, participate in a wide variety of contests and earn prizes for being active on the site. The online community has been responsible for new collaborations and business ventures in entertainment because of opportunities for individuals to network and chat with each other. Furthermore, the Explore Talent site features celebrity videos, exclusive interviews with actors, actresses, and musicians, such as Akon and T-Pain.
Follow Explore Talent via Google+ here.