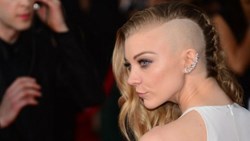 (PRWEB) January 25, 2014
Stunning actress Natalie Dormer, of "Game of Thrones," adorned the red carpet at the 2014 SAG Awards Saturday night with a new and surprising hair style that got all on-lookers talking, according to Explore Talent news.
Dormer, 31, is most known for her roles on the series "Game of Thrones" and "The Tudors," and sports a very angelic look for both. However, On Saturday, her style showed a drastic change in that she had the left half of her head shaved. The other side still has her famous flowing locks, making the look even edgier.
It turns out that the new look is not just a fashion statement. Dormer will have a role in the final two installments of the "Hunger Games" film series, and has her new hairstyle specifically for that part. It is not rare for actors to change their look for acting jobs, or even for acting auditions, but the SAG Awards was a very daring place for Natalie to premiere her new look.
Dormer has expressed that her original intention was to shave her entire head for her next role, but settled for half since she decided that it would fit her new character even better than a completely bald head. Is this really only a temporary, job-related do, or is Natalie going the way of Miley Cyrus?
Since its debut in 2003, ExploreTalent has become the Internet's largest resource for actors, models, musicians, dancers, and production crew. Explore Talent's proprietary cast match technology is the most advanced entertainment-based technology of its kind. It matches a talent's attributes against tens of thousands of job postings every day. Explore Talent's unique technology sends casting email alerts and posts auditions and jobs directly on talents' profiles, saving members hours of time from tedious searching. Explore Talent has proven to be the best possible destination for talent to find modeling and acting auditions with well over 7.9 million members and over 60,000 auditions, castings, and production jobs listed - 40 times more postings and open casting calls than any other site.
ExploreTalent's popularity is based on the fact that there are many ways for talents to network, make friends and connect with other industry players, participate in a wide variety of contests and earn prizes for being active on the site. The online community has been responsible for new collaborations and business ventures in entertainment because of opportunities for individuals to network and chat with each other. Furthermore, the Explore Talent site features celebrity videos, exclusive interviews with actors, actresses, and musicians, such as Akon and T-Pain.
Explore Talent is currently holds an A+ Rating from Better Business Bureau.
You can also check Explore Talent Klout Profile here.