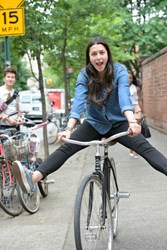 Santa Monica, CA (PRWEB) January 23, 2014
Spinlister, the world leader in peer-to-peer bicycle, ski, and snowboarding rentals, announced today that they are looking for passionate college students to join their existing Student Brand Managers. Spinlister would like to hire students who are excited about the growing sharing economy and will encourage peer to peer sharing on campus.
Students are often looking for ways to make quick money and Spinlister makes it easy for individuals to list bikes, skis, and snowboards that may be sitting unused. The app also creates an opportunity for students to meet likeminded individuals when they rent or list from each other.
Spinlister hopes to find students similar to their current USC Student Brand Manager, Dustin Skipworth. Skipworth, an ex semi pro wakeboarder and current host of a TV sports program, possesses the unique and outgoing personality that Spinlister is searching for. "I decided to be a SBM at Spinlister because they are way ahead of their time in their visions and have found a niche market that has evolved to allow our generation to share the luxuries that many are not so fortunate to have," says Skipworth.
Students interested in applying to become a Student Brand Ambassador should send their resume and cover letter to Director of Community Relations, Scott Gates, at scott(at)spinlister(dot)com. For more information, please visit the job description page.
About Spinlister:
Launched on April 1st 2012, Spinlister is an online marketplace that allows users to rent and list bicycles, skis, and snowboards in over 100 countries worldwide. With built-in security features and a database of user reviews, Spinlister has won the trust of communities of cyclists, skiers, and snowboarders all over the world.