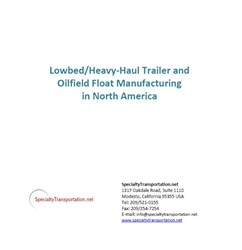 Rockville, MD (PRWEB) February 04, 2014
This report examines the business of lowbed/heavy-haul trailer and oilfield float manufacture in North America. Lowbed trailers, also known as lowboy trailers, feature an extra-strong frame with an open deck very low to the ground. They have a lower center of gravity as compared to standard platform trailers, resulting in added stability for heavier and taller equipment. These trailers are designed for carrying extremely heavy, tall or bulky cargo, and are used in oilfields, mining, construction and other industries requiring the transportation of heavy equipment. Lowbed trailers also include Schnabel trailers used to transport wind turbine towers by the wind energy segment.
Lowbed trailers include single drop, double-drop and extendable trailers with fixed necks, detachable goosenecks and folding/scissor-necks. Oilfield floats are a relatively small product segment within the category. These units are characterized by being fitted with pick-up throats, tail rollers, and either folding or no landing gear. Oilfield floats bridge the gap between flatbed and lowbed trailers.
The North American lowbed/heavy-haul trailer industry is highly fragmented, with a large number of small, regionally focused players. The regional manufacturers compete successfully mainly because of product customization and transportation costs. Lowbed trailer manufacturing has relatively low barriers to entry, especially for standardized units.
To order this report:
Lowbed/Heavy-Haul Trailer and Oilfield Float Manufacturing in North America
Contact: Shauna
800.298.5699
Customerservice(at)marketresearch(dot)com
SpecialtyTransportation.net
SpecialtyTransportation.net (STN) provides proprietary business analysis and databases on vehicular and related market sectors, focusing on information specific to the needs of the commercial vehicle industry.
About MarketResearch.com
MarketResearch.com is the leading provider of global market intelligence products and services. With research reports from more than 720 top consulting and advisory firms, MarketResearch.com offers instant online access to the world's most extensive database of expert insights on global industries, companies, products, and trends. Moreover, MarketResearch.com's Research Specialists have in-depth knowledge of the publishers and the various types of reports in their respective industries and are ready to provide research assistance.
Follow us on Facebook http://www.facebook.com/marketresearchdotcom.
Follow us on Twitter http://www.twitter.com/marketresearch_.
Lowbed/Heavy-Haul Trailer and Oilfield Float Manufacturing in North America - Table of Contents:
A. Preface
B. Scope & Methodology
C. Product Definitions
D. Industry Overview
E. Market Analysis
E.1 Channels
E.2 Market Size
E.3 Market Shares
E.3.1 Market Share by Product Type
E.3.1.1 Lowbed Trailers
E.3.1.2 Oilfield Floats
F. Analysis by Geographic Region
G. Market Outlook
H. Manufacturer Data
I. Manufacturer Profiles