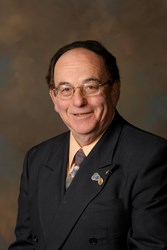 Our organization would cease to exist without Ambassadors like Len
Sarasota, FL (PRWEB) January 22, 2014
Len Nemeroff, of Hamilton, N.J., has been named Ambassador of the Month by international disaster relief organization, ShelterBox. Nemeroff was selected from a group of more than 400 ShelterBox USA Ambassador volunteers nationwide, who actively raise funds and awareness for the charity through public engagements.
ShelterBox provides humanitarian aid—emergency tented shelter and other supplies, such as stoves, blankets and water filtration systems, among other tools to help families rebuild their lives after losing their homes and possessions following a disaster such as earthquake, volcano, flood, hurricane, cyclone, tsunami or conflict.
Volunteer and member of the Rotary Club of Hamilton Township, Nemeroff is being recognized for his efforts to assist families made homeless by Typhoon Haiyan that hit the Philippines in November. From visiting local Rotary clubs to inspiring individuals, Nemeroff helped to raise more than $90,000 in only a few weeks. His efforts will assist nearly 100 of the most vulnerable families.
"ShelterBox USA has a strong volunteer base and I'm incredibly proud of their accomplishments," Emily Sperling, president of ShelterBox USA, said. "Our organization would cease to exist without Ambassadors like Len, who continue to rally support in their local communities, ultimately making a difference in the lives of disaster survivors around the world."
Nemeroff is available to talk to any school, scout group, Rotary club, faith-based organization or business that wishes to learn more about ShelterBox. To request a presentation, email volunteer(at)shelterboxusa(dot)org.
ShelterBox assists families abroad and within the U.S., including those affected by the tornadoes that swept through Moore, Okla. last May. Currently, the organization is responding to Typhoon Haiyan and the Syrian refugee crisis, providing tented shelter and other essential equipment to families in need. For the latest on this and other ShelterBox deployments, visit http://www.shelterboxusa.org/news.
Since 2000, ShelterBox has provided disaster survivors with shelter, warmth and dignity following more than 200 disasters in over 90 countries. ShelterBox instantly responds to earthquakes, volcanoes, floods, hurricanes, cyclones, tsunamis or conflict by delivering boxes of aid and other supplies. Each iconic green ShelterBox contains a disaster relief tent, stove, blankets and water filter, among other tools for survival. ShelterBox's American affiliate, ShelterBox USA, is headquartered in Sarasota, Fla. Individual tax-deductible donations to ShelterBox USA can be made at http://www.shelterboxusa.org or 941-907-6036.