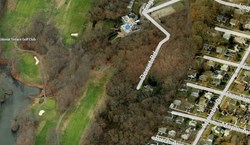 Ocean Township, NJ (PRWEB) January 22, 2014
According to Richard R. Santore of, Bielat Santore & Company, Allenhurst, New Jersey, his firm has just sold an approved residential subdivision on Dorsett Avenue in Ocean Township, New Jersey for an age-old client of the firm.
"We represented a long-standing client of ours in the sale. Our company originally represented this client nearly twenty years ago when we sold his restaurant for him," continues Santore. That restaurant was Christie's, located at One English Lane, Ocean Township, New Jersey. The landmark restaurant and catering facility was owned by Christopher Meccia from 1973 to 1997 when it was sold. "My wife and I were married there in 1979," finishes Santore.
In addition to the land the restaurant was situated on, Meccia owned additional acreage behind the restaurant for years. He originally intended to build homes there himself someday, and in fact, during the early part of the decade sought all the approvals to do so. Unfortunately, the economy entered a recession and the home building business slowed to a halt thereafter. Now at 79 years old, age has caught up to Meccia and slowed him down as well. "The best thing for me to do at this point in my life was to sell the parcel," says Meccia.
The secluded parcel bordering the Colonial Golf Course in Ocean Township will yield twelve single-family lots. It was sold to a local developer who will construct single family homes on the site as soon as permits can be drawn. The homes, once built, are expected to sell for $450,000 to $550,000. "It was our privilege to work for Chris again. We are so glad to have had this opportunity to help him out, especially at this time in his life".
About Bielat Santore and Company:
In addition to selling restaurants and other food and beverage related real estate, over the years, Bielat Santore & Company has built a successful land development division. Initiated with the sole objective of locating, contracting and entitling land for national restaurant chains, the firm's development business expanded into the entitlement, financing and construction of a wide-range of single-family residential homes, retirement communities, resort vacation homes and beachfront development projects. Visit the company's website, http://www.123bsc.com for the latest in new listings, property, searches, available land, market data, financing trends, RSS feeds, press releases and more.