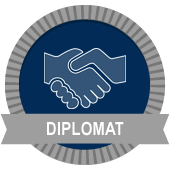 Washington, D.C. (PRWEB) January 22, 2014
The Smithsonian Center for Learning and Digital Access will host a live, interactive "Diplomacy in Action" online education conference and will launch a companion digital badge Wednesday, Feb. 12.
The Smithsonian Institution, the National Park Service and the U.S. Department of State will each highlight objects from their respective collections that exemplify the theme for students. Students will also have the opportunity to earn the Diplomat badge through the Smithsonian Quests digital badge program, which supports self-directed, project-based learning that facilitates anywhere, anytime exploration. Both programs are conducted in partnership with the American Library Association, National Council of Teachers of English, National Council for Social Studies and National Council for Literacy Education and as part of the Inter-Agency Initiative on Learning, which was formed in 2012 to bring government agencies and educational organizations together to create online tools that increase access and enhance learning.
Each online conference session features experts presenting free digital-learning resources and teaching strategies that educators can use to explore cross-curricular lessons with their students. Experts also will respond to questions from participants.
Marcee Craighill and Susan Holly from the U.S. Department of State will present "Practicing Diplomacy from Early America to the Present" at 10 a.m. EST. They will take participants into the Diplomatic Reception Rooms at the U.S. Department of State—42 rooms used by the President, Vice President and Secretary of State to conduct American diplomacy at the highest levels.
Stephanie Toothman from the National Park Service will present "Places of Negotiation" at 1 p.m. EST. She will showcase several sites in the National Park Service that tell stories of diplomacy and negotiation during major turning points in U.S. and international history.
Harry R. Rubenstein from the Smithsonian's National Museum of American History will present "Changing America and the People behind a Movement" at 4 p.m. EST. He will discuss the pivotal role local grassroots movements played in the history of civil rights in America, from the Emancipation Proclamation to the March on Washington and beyond.
The Smithsonian Online Education Conference Series provides an online space for teachers and students to engage with Smithsonian experts and make connections from textbooks to today's world. To register for the "Diplomacy in Action" online conference sessions, visit http://smithsonianeducationconferences.org/diplomacy.
About the Smithsonian Institution
Founded in 1846, the Smithsonian is the world's largest museum and research complex, consisting of 19 museums and galleries, the National Zoological Park and nine research facilities. There are 6,300 Smithsonian employees and 6,500 volunteers. Approximately 30 million people from around the world visited the Smithsonian in 2013. The total number of objects, works of art and specimens at the Smithsonian is estimated at 137 million.
About the National Park Service
More than 20,000 National Park Service employees care for America's 401 national parks and work with communities across the nation to help preserve local history and create close-to-home recreational opportunities. Learn more at http://www.nps.gov.
About the Diplomatic Reception Rooms at the U.S. Department of State
The 42 Diplomatic Reception Rooms at the U.S. Department of State are used each day by the president, vice president and secretary of state to conduct American diplomacy at the highest levels. In these rooms, peace treaties are negotiated, multinational summits convene, state luncheons are served and history happens every day. These rooms also house an extraordinary collection of 5,000 historic objects, which tell important stories from the time of the nation's founding. Learn more at https://diplomaticrooms.state.gov/home.aspx.
# # #