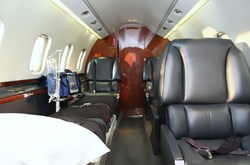 Scottsdale, AZ (PRWEB) January 24, 2014
Angel MedFlight, an innovator and industry leader in air ambulance medical transports, flies patients in Learjet 60s – medium-size aircraft that foster the highest standards of safety, medical care, comfort and security. The use of Learjet 60s revolutionizes the air medical industry, providing the next-generation of medical transport.
Transporting critically ill patients at high altitudes takes experienced medical personnel with advanced training and certifications, accompanied by state-of-the-art aviation and medical technology. Angel MedFlight's two Learjet 60s are among the first of their kind in North and South America to be dedicated to global patient transport.
High altitude flight capabilities come standard with two high-powered turbo fan engines capable of producing 4,600 pounds of thrust. By flying higher, the Learjet 60s are able to rise above most turbulence and typical atmospheric disturbances. Such things are unavoidable in less powerful, smaller aircraft. Flight at a higher altitude means a more comfortable and safer ride for patients, family and medical personnel.
The advantages of using the Lear 60 in air ambulance service are numerous:

State-of-the-art avionics provide a safer, more reliable flight for patients and their loved ones
Featuring nearly twice the cabin space as the Lear 35 (the most commonly used aircraft in the air medical industry), the Lear 60 redefines comfort in air medical transport
Extended range of more than 2,400 miles makes cross-country and trans-continental flights a comfortable reality
Flight capabilities of up to 50,000 feet
Speed of transport with the ability to reach 536 miles per hour
Flying patients faster, farther and safer raises the bar on patient care and transportation. Additionally, Angel MedFlight owns and maintains its fleet and has been recognized with an AR/GUS Platinum rating and Stage-1 IS-BAO registration.
About Angel MedFlight Worldwide Air Ambulance
Angel MedFlight provides domestic and international air medical transportation services, commercial medical escorts, ground ambulance services and provides discretionary insurance benefit assistance. Angel MedFlight's One Touch Promise® assures every detail is handled and all resources are committed to guide the process from start to finish with a compassionate team of experts in the fields of medicine, aviation, insurance law and case management. http://www.angelmedflight.com