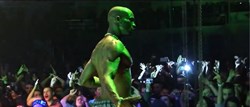 Greenville, SC (PRWEB) January 23, 2014
After a successful five country promo run, DMX is ready to once again bring the legendary hits to the global stage. He is also working on new music and several movie projects for 2014.
His initial five country tour was electric. Fans that have been waiting for nearly eight years were on their feet screaming "X, we love you!" Every show was quickly sold-out, and even his arrival was a huge production. From limos driving on the airport runway to receive him from the plane to twenty car motorcades, it was like something from a Hollywood movie.
DMX's passport and child support issues have been cleared and he can be booked worldwide through DMXTour.com.
A promotional video of the December tour has been released http://youtu.be/TXh5mRTklh0. For media requests, contact Domenick Nati of Nati Celebrity Services at NatiCelebs(at)gmail(dot)com.